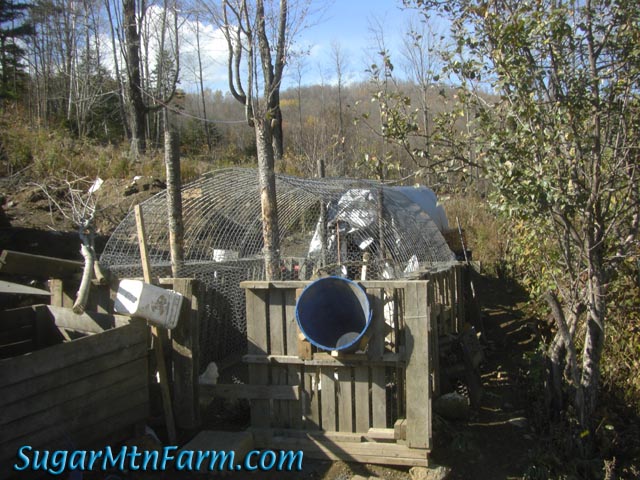 Input for Egg Production
A friend saw the blue plastic chute on our
extended
chicken
coop
winter
hoop greenhouse
and instantly knew what it was for – sticking chickens in when we catch them in the late fall!
He's right – it would probably work quite well for that but the reality is more mundane. The blue chicken innorator is is a rolled up side-wall portion of a 50 gallon plastic drum that makes cone for feeding the birds from the outside. These lucky fowl get fresh meat, kitchen compost and other goodies in the winter when the insect population has declined to zero and deep snows cover all the pastures. Winter is for surviving.
As the weather gets colder we'll add a sheet of plastic to turn that front area into a sun room for the hens and their gentleman friend. They have a light that gives them extended hours which helps with the Seasonal Affected Disorder (SAD) that bothers chickens so much during our long dark winters.
There are still four hens out in the south field who have not come in yet. I know the trees where they roost and will go chicken pickin one of these nights. Did you know that if you rub a stick in front of a chicken that is high up in a tree it will step onto the stick so you can then bringing it down to it put away? All calm and cozy. Pretty cool, huh! Will figured that out.
Outdoors: 48°F/17°F Sunny
Tiny Cottage: 65°F/61°F
Daily Spark: When writing publicly about your life, I think there's a natural tendency to try to live a better one… –O'Shea Family Weblog