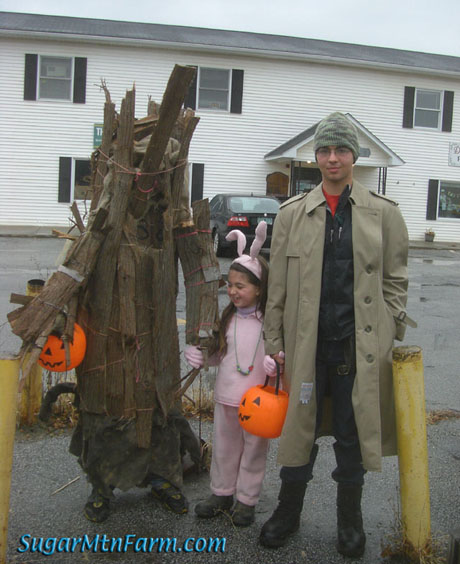 Ben, Hope and Will Dressed up for Halloween
Even with construction (yes, it is happening!) and preparations for winter we still got in time to make costumes. Halloween is a big creative time at our house between pumpkin carving and costume making.
Tree Monster
Ben dressed himself as a tree this year. There were a bunch of cedar logs I had skidded back to the south field for fence posts. Ben peeled the bark from the 40 to 50 foot long trees and saved some of it. At the time I had no idea why he was gathering it up. Notice the roots and long tree fingers!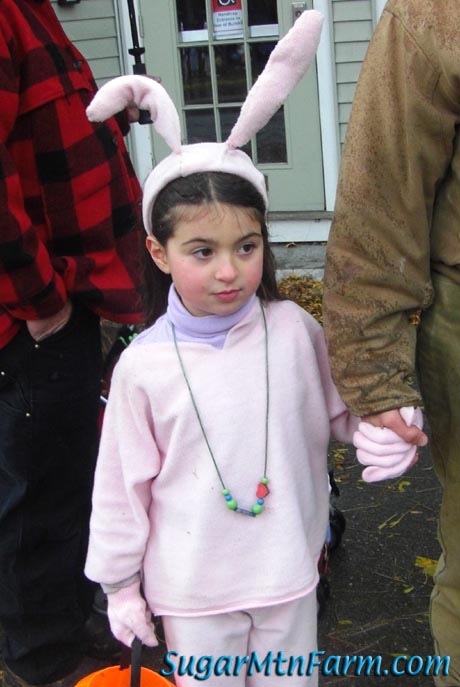 Pink Pre-Monster Bunny
Hope made the first part of next year's costume. She sewed it by hand and on the sewing machine. This year it is a cute pink bunny. She has devious plans to use this as the basis of next year's costume. Think Wednesday. Such a nice child…
So what did Will go as? Why, he was a chaperone. With a fedora he would have been a detective.
See Ben's blog for his take on Halloween.
Outdoors: 39°F/27°F Rain in town, Snow at our house
Tiny Cottage: 63°F/59°F
Daily Spark: My wife and I met through carbon dating said the archeologist.
Also see:
Halloween 2015
Halloween 2014
Halloween 2013
Halloween 2012
Halloween 2011
Halloween 2010
Halloween 2009
Halloween 2008
Halloween 2007
Halloween 2006
Halloween 2005