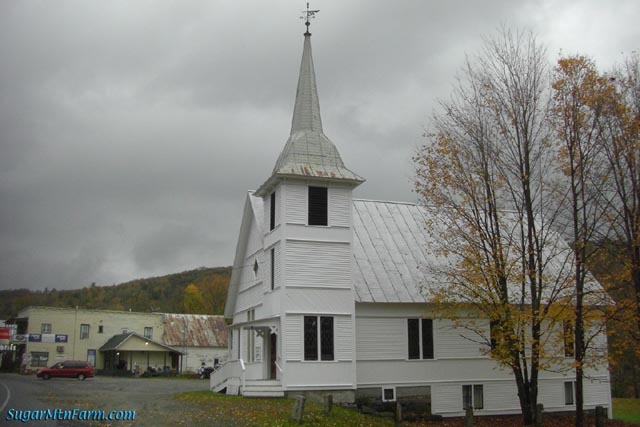 Classic Church Photo
This is a classic image, the New England white clabboard church with spire located in
West Topsham
, VT. As Snoopy might have written,
"It was a dark and gloomy day…"
This allowed the details in the clouds to show so well.
Even better, I was able to find a angle that showed the church and Gramps General Store in the background without showing the overhead power lines – impressive and picturesque. I like that as I am forever editing power lines out of photos. I don't like overhead power lines. If they tried to put them up in the modern world people would scoff and forbid them. Overhead lines are unsightly but more seriously dangerous, getting coated in ice and falling down on the road. Multiple times our roads have been blocked by high power lines that lay across them until the power company came to cleanup. If those lines were buried the world would be safer and prettier.
Look carefully and you can see the granite fence posts by the church. There used to be wooden rails between those pillars as can be seen from the holes cut into the stone. The foundation of the church is also granite. All this comes from the local quarries. Granite is something we have a lot of in Vermont and New Hampshire so it is a traditional building material. Inside this church are stain glass windows. I've only seen them once, at a friend's wedding years ago.
Those are sugar maple trees next to the church. This would have been a fall foliage shot except that we had just had 9″ of rain and heavy winds that ripped the leaves from the trees. As Snoopy might have typed, "It was a dark and stormy night…"
Outdoors: 54°F/28°F A little Rain, A little Snow, A little Sun
Tiny Cottage: 69°F/65°F 3rd Fire
Daily Spark: iCide – the new digital pesticide! Kill those nasty software bugs dead! iCide dissolves all digital bits turning sharp, prickly '1's to safe, rounded '0's. iCide is approved by the EfinDA for use with Kids Software using the patented Kidzoft technology. Code that has been debugged with iCide can then be fully compressed from any size down to a single bit or less saving disk and memory space – one more benefit of iCide! Decide to ask your Geek about iCide today!