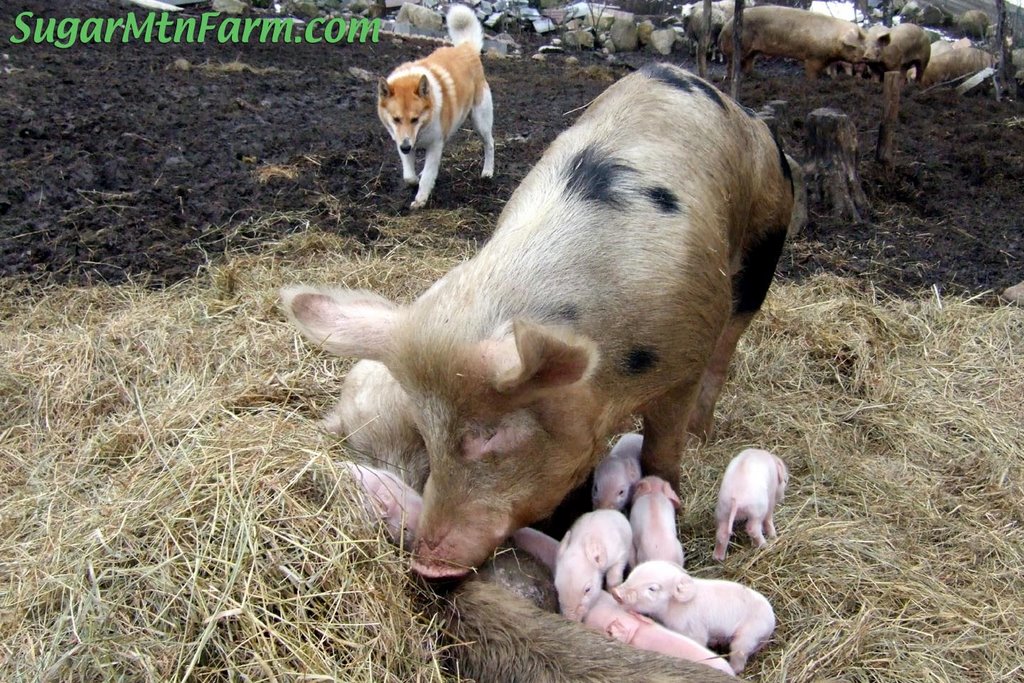 Spot is Dead – Long Live the King!
Spot was our head boar at Sugar Mountain Farm for an extended period. He took over from Archimedies. Spot was the biggest, toughest, sharpest tusked kid on the blog. He was gentle with human but firm with other pigs without being excessively mean.
At six chronological years of age he was getting up to around the equivelant in pig years of about 65 human years. Yet he still visited the ladies and managed his herd against young upstarts.
This fall Spot died in his sleep. I measured his crown to tail base length a length (L) of 95″ and a girt (G) of 84″. He is the definition of a long bacon pig rather than a short torso lard pig that would have more similar G and L measurements. Spot measured 36″ at hip height. If he were to stand upright like a man he would be an an amazing 12′ tall. A gentle giant.
He did not carry a lot of fat but was tall in the shoulder and heavily muscled on that big bone frame of his. He now relaxes in a large compost pile, return to the soil whence we all came. [In the spring of 2011 I turned that pile and the only bone I found was his skull – I had wrapped plastic around his head to try and save that. Everything else had decomposed into the compost pile.]
I have no way to measure his actual weight with a scale but using the string method I get a gestimate of over 1,700 lbs life weight for Spot. He was a big boy and not at all fat. This fits with the 1,400 lbs I measured for his brother Big'Un. In both cases the tractor, which can lift 1,600 lb bales, had difficulty lifting the carcasses and moving them to the compost piles. These were big animals.
Outdoors: 49°F/26°F Partially Sunny
Tiny Cottage: 65°F/65°F
Daily Spark: "Good things come to those who persevere."