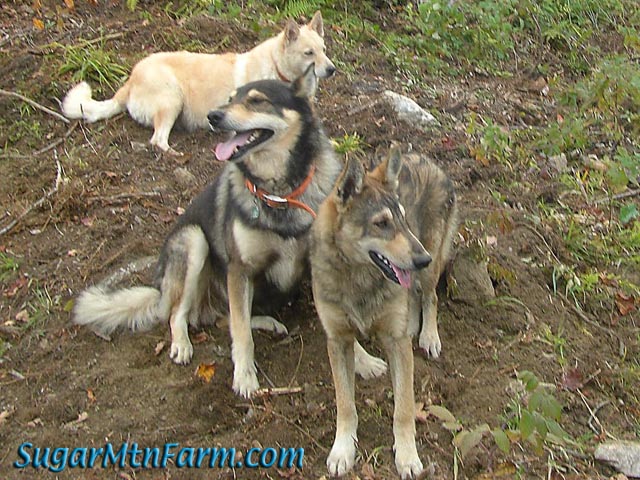 Lili, Kavi and son Kit
Many of the behaviors of livestock guarding and herding dogs are based on instincts but I also train hard to maximize the dogs' abilities. Sometimes you have "Ah-ha!" moments when you realize just how much they have learned.
When I let the puppies out of the gate on their night area I tell them all to sit before opening the door – Not rushing the gate is important. Sometimes, naye, often Hanno in his excitement is slow to sit. One day recently Hanno was being particularly slow to get it. Sirius & Kit were already sitting. Kit got up, went around Sirius, put his paws on Hannos rump and pushed him down. Kit then went back and sat in his place on the other side of Sirius. Kit means business, enough fooling around. With all three butts firmly on the ground I opened the gate to let the puppies out of the kennel.
Of interest, Kit is also the most advanced at herding. Hanno is second. Sirius follows. In time they'll all develop the skills. By the way, "Sit" relates to "Drop" and "Down" which are important herding skills. Herding is a form of hunting, of bringing the quarry to the leader for the kill. Sublimating this we can turn instincts into farm hand skills. Canines are great ranchers.
Lili and Kavi shown in the photo above are the puppies' parents. We were taking a walk to examine a section of the upper pastures the pigs have just rooted up nicely. Since it is new pasture it is filled with interesting tubers and grubs for rooting. Later as the grasses take over the pigs an sheep will graze. So flows the transition of the land.
Outdoors: 64°F/39°F Mostly Sunny
Tiny Cottage: 66°F/65°F
Daily Spark: "I swear to devote my life to the destruction of piracy, greed, cruelty, and injustice, in all their forms and my sons and their sons shall follow me." –Oath of the Skull