Sow Pork Chops Back and Front
We have been culling older sows as we reach the peak of our grazing season and they recover condition after finishing their last litter. These are sows that are performing poorly compared with the other sows, getting too old, throwing low piglet counts or having offspring not in the top percents at finishing or I don't think they'll thrive over the winter. Through this process of winnowing we improve our breeding herd which over time improves the resulting feeder pigs and quality of our pastured pork. It is a long term process.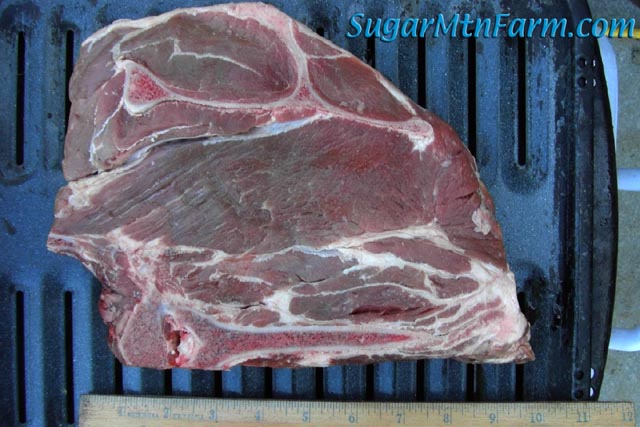 Shoulder Cut Pork Chops from 650 lb Sow
With each sow we take a couple of pork chops for 'scientific testing'. It is rare that we get to eat
high on the hog
other than for quality control. The sows normally go to things like
hot dogs
and
sausage
although there are a few customers who have ordered large hams and shoulders that they wanted to get from these bigger animals for charcuterie. The biggest sow culled in this round was about 650 lbs. She produced chops that were bigger than dinner plates and weighed in at 3.78 lbs each. Hungry man steaks big enough to feed an entire family. Think short legged cattle.
Pork Chop Fit For A King
These chops were delicious. They were actually high, up at the shoulder end of the loin as you can see by the bones and meat lines. This is my personal favorite cut of the pig and one I rarely get as there are several restaurants who have dibs on all the Boston Butt we can produce. No, I did not get to have all 4 lbs of that lovely meat. We shared it, five people, and still had left overs for the next day's lunch in sandwiches.
Although we are using these high on the hog cuts of pork to make our hot dogs and sausage the butcher commented that they were really great pork. She said that the marbling was excellent. Normally she sees older sows having too much fat both on the back and in the meat. The likely reason that our sows don't have that problem is they are out on pasture and not getting a high calorie corn based diet. Our sows simply never get fat.
As an added benefit, since they are in better physical condition they don't flop down on their piglets and crush them around farrowing and nursing times as happens with overweight sows. This difference may explain why some people who send fat hogs out to farrow on pasture have such poor results and insist that crates must be used to get good farrowing and weaning rates. It is somewhat of an irony that the over feeding of America's pigs is why the inhumane use of farrowing crates may have developed in industrial farming.
Also see: our other sausages.
Outdoors: 69°F/45°F Mostly Sunny corn and tomatoes going great guns
Tiny Cottage: 69°F/69°F
Daily Spark: A conspiracy is often simply a statistically significant coincidence or anomaly.