Two Litters Belly to Belly
Two sows farrowed together in the south field this week. On Tuesday I had commented that this pair who were laying together, and four other sows, were looking ready to pop.
Turns out they were synced exactly. They had built a nest together and farrowed at the same time. This happens on occasion and makes me think there might be some trigger going on much like heat cycles being syncronized by scent. Synchronization is important because if the sows are out of sync and together the one that is not farrowing won't have the right behaviors to protect the piglets.
They didn't move into this belly to belly position until a little later. With the piglets between them the little ones are sheltered from the wind, have access to food and 103°F heating pads on each side of them. With this in mind there could be a certain evolutionary advantage to synchronized farrowing.
Later in the day as the sun warmed their area the piglets and sows spread out. In a few days they'll be all over the field, following their mothers who will likely stick together, sharing nursing and babysit while the other goes to grazes, get water or whey. Generally the sows stay away from the rest of the herd for about a week or so. By then piglets are very nimble and ready to deal with the larger animals.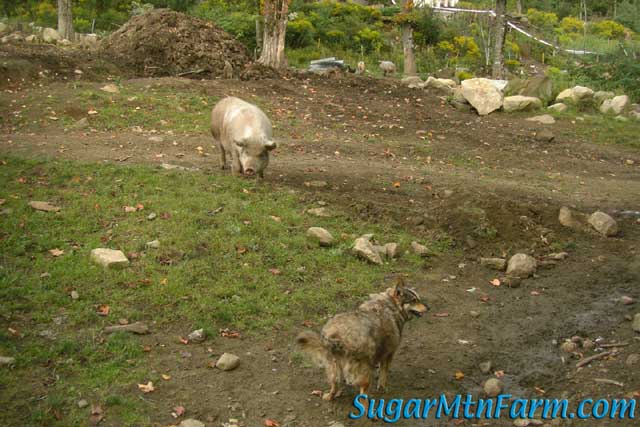 Katya Keeping Curious Onlookers At Bay
Normally I get to know the litter when they're born so I know who is the mother of every pig. The herd sire at the time of conception gives me the father line – in some cases this is a pair of boars. In this case I'll only be able to trace the "maybe mother" in some of these piglet cases. Based on piglet colors and what I know of the mothers there are a few in this litter who I know for sure came out of Quartermane, the sow on the left. But the all white ones will be more challenging. For feeder pigs this is less of an issue but for breeders I like to know who's who and to whom they were born.
This area has been a favorite loafing spot before these two sows took it over. As soon as they are rotated off of it the grasses and clovers will spring back and it will green up. On pasture they mostly graze but they do root a little, especially if there is brush. I suspect that there are juicy grubs and tuber roots among the brush. Their digging is good for the pasture. They only go down a few inches, turning over the soil and aerating it. Sometimes we spread seeds behind them as I rotate them out of an area. Pigs are a great help for planting crops and renovating pasture. One of the effects of the pig's gentle rooting is they bring rocks up to the surface which we collect for stone walls. They also bring up artifacts such as an old plow blade, a pottery shard, an iron hook, a bulldozer tread, ancient bricks and other interesting found items.
Earlier this summer two other sows had farrowed in this area too. Being a little raised up it stays dry and it is on the opposite slope of the swale from the mountain slope. The plastic panel and boards along the fence line are to keep the sows and piglets off the fence and to keep piglets from going through the stone wall and down over the edge of the field which has a short drop off there. As the piglets get older they'll find the trail in the stone wall where they can go down into the brush during the heat of the day but they'll not wander far from their mothers.
In the distance of the photos you can see dots of pigs, and boulders. It is hard to tell one from the other in the photo. Off in the far distance, about 800′ away, you can see the stone wall between the near south field and the far south field. Check this post for a map.
Visible in the middle distance are a bunch of ash trees I cut that are drying. These will be firewood for our tiny cottage in coming years.
Another interesting note in this photo is the dead tree with the bark stripped from it. It is the preferred rubbing spot in this paddock. Everyone needs a good back scratcher. Sometimes it is a fence post, sometimes a tree, sometimes a rock, sometimes my tractor. I try not to be a scratching post – Most of all never get between 800 lbs of scratcher and the post!
The stripped bark is the combined work of the sheep and pigs but the tree was already dead years ago before they started on it. The nibbling of the sheep and rubbing of the pigs merely took off the loose dead bark and polished the wood. After a tree dies the wood shrinks and the bark loosens. I'm going to cut that tree for firewood now that it is dry and leave the stump high so the animals can continue to have a rubbing post. The green flagging tape was my mark on it that I didn't want it cut for this reason when we were clearing along there.
Proper Lie Down Technique
A good sow in proper condition lies down slowly, rising up a little as necessary to give piglets time to scramble out from beneath her massive bulk. A poor mother or over weight sow may flop down hard, crushing piglets in the process. This behavior is genetic. Select for it and keep your sows from getting overly fat. As a side note, I suspect that some of the 'crushings' people report are actually non-viable piglets who simply died shortly after birth due to congenital defects and were then laid on later. That is to say, not all pressed pigs are crushings. It is a question of did they die or get flattened first.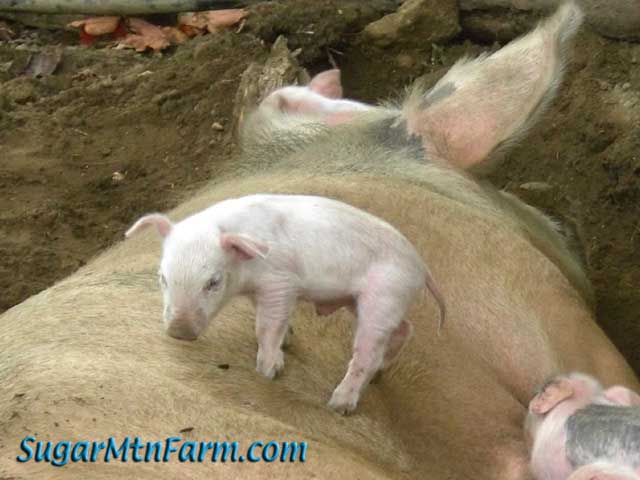 High Climber
Meanwhile, in the north field a litter of twelve from a new gilt also arrived. She did not yet have a name but is an excellent mother. It was high time I asked her what I should call her. Now that she is a year old and has farrowed she is a sow and should have a name. So this morning Hope and I visited with her and observed her markings. Hope is studying geography. We saw Greece in her birthmark. Hope and I named her Greta for the Greeks after trying out several variants with her. She seems to be very calm and a good mom. With her big litter I look forward to knowing her for many years to come.
Hope Petting Piglets
Piglet petting is a very appetitive thing, for people. The piglets don't particularly like it though. They really don't like being picked up. I suspect they are 'ticklish' – that is to say that the feeling of being lifted up makes them think of a predator grabbing them which is dangerous. Thus when they are picked up they scream bloody murder at about 100 decibels. This brings their mothers running. It is a uniquely piercing sound and a good way to get hurt. Since pigs do not pickup their young, unlike dogs, cats and humans, the piglets don't have the mindset of being lifted up to safety. They can learn it but that requires a lot of interaction and what they need most right now is their mother's milk and protection. In this case both sows had gone off to graze nearby – you can see Qmane coming towards us on the right – and Hope was gently and slowly stroking the piglets. No pickups allowed.
In building their nests, sows gather materials from the fields. This includes the occasional piece of white bale wrap plastic. They're right that the plastic does make a great nesting material. We then pick over their nest when they're done to remove found things from the field. Team work.
Update: As I finished writing this another of our sows, Torn, had eight more piglets. She may still have more to come so the count is not final. At least three more sows are bagged up and ready to go any day now. Clustering of litters like this is fairly common – feaster or famine. One time we had eleven sows all farrow in a few days time boosting our pig population by more than one hundred pigs in one big jump. I prefer it when they space the litters out at the rate of about two a week. I could segregate the boars away from the sows but frankly that is too much work, the boars and the sows would be unhappy with the arrangement and they do a better job of heat detection and breeding management left to their own devices. I just have to be ready to catch what they throw.
Forty-three more piglets born into beautiful weather. These are the easy months of summer. There are more to come in the next week. June through October are particularly fine months. We are caught up with the rush of spring piglet orders. Most people, neigh, almost everyone, wants piglets in the spring to raise over the warm season. I sympathize. I just wish I could keep up with the orders.
Unfortunately to serve the demand for spring piglets means farrowing piglets in the middle of the harsh winter months. Those are more challenging times. Farrowing in the dead of winter is harder indoors or outdoors. Greenhouses are great as are the dens and open sheds we have. Dryness is important – fortunately our winters are cold enough that they are dry. It is better to be at 15 degrees or below than at 32°F where everything turns to mud. Lots of hay is key in our cold climate as is a windbreak. In the summer the sows pick their own nesting sites out in the pastures, typically along the margins in the brush. In the winter we must separate them from other pigs who are out of sync with them. This gives them a simulation of the summer privacy they seek for their nests.
Sales of spring piglets compete with the need for piglets here on our own farm to raise to market size for stores, restaurants and CSA families. This means that we see a low finisher pig count during the late summer – e.g., now. It can be hard in the spring resisting the cash in hand for piglets vs the much higher reward six months later for the finisher pigs. It takes five months or so to produce a piglet. For another five months investment we get four times as much for a finisher pig. Someone tells me to sell fewer piglets in the spring so we can have more sales in the fall. What I want is to have more sows. Getting there is a gradual process – I won't let us grow to fast or too big.
For now, like the pigs, I'll enjoy the warm summer months and the easy farrowing. It is fun visiting piglets in their nests out in the margins of the mountain pastures. It is a pleasant walk about on a warm sunny late summer day.
Outdoors: 76°F/50°F Sunny
Tiny Cottage: 71°F/71°F
Daily Spark: "Leaders are visionaries with a poorly developed sense of fear and no concept of the odds against them." -Robert Jarvik (developed artificial heart)