Hanging Mint
The above is just a small snippet I had clipped off of one of the mint plants growing in the
planter
by our shower. They enjoy the moist air in there. Starting in late July we begin foraging for mint around
Mystery Pond
and other wet shaded areas where it grows so well. Clipping the mint down and leaving one crotch for re-growth means we can get another cutting or two this year. When it comes back it is bushier and has a lot more leaves. By cutting it around the end of July we get a lot more mint than if we just let it grow tall. Same trick as with basil.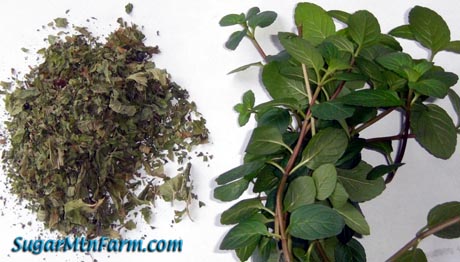 Comparison of Dried and Fresh Mint
Interesting, fresh mint brewed to tea is not nearly as strong tasting as dried mint brewed to tea. In the past I've always made my tea from dried leaves we harvested about this time of year. This time I experimented. Same number of leaves, same brewing time but not nearly as dark a tea nor as strong tasting. I'll stick with the dry leaves.
A note on drying the mint, the stems produce a bitter taste to the tea so we strip the leaves after drying the tea. I suspect that this is why our homegrown tea tastes so much better than the store bought tea which has the stem flavor in it.
Mint is a big drink for us, winter and summer, hot and cold. It's what we have and it gives just a bit of flavor to the water.
Outdoors: 76°F/50°F Partially Sunny
Tiny Cottage: 72°F/72°F
Daily Spark: The bottomust hippopottomus is flattened by the toppomus.