Hope with Monster Dog
We just got back our latest batch of
hot dogs
from the smokehouse. They were all sold out before we even picked them up so they went straight to store and restaurant freezers. That's always nice!
In a batch there are always a few rejects the smokehouse puts into a bag. We sample those, in the interest of science, of course, just to make sure they taste right. The one Hope is holding didn't get twisted so it came out extra long. Turns out, for hot dogs, size matters. That one won't fit in the package, or a bun. Well, slice of bread – we don't have any buns today.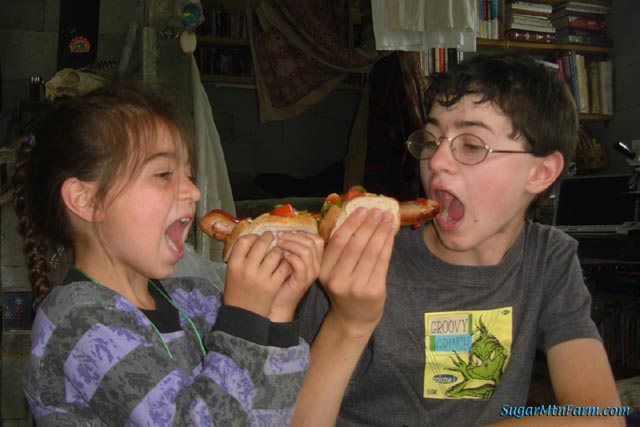 Sugar Mountain Farm Hot Dog — Hmm… Hmm… Good!
Hope and Ben enjoy opposite ends of the Monster Hot Dog. 100% Pastured Pork, a drop of maple syrup and so delicious! Our hot dogs have
NoWeirdStuff
in them. Just all natural pork from our farm, no nitrates, no nitrites – the way we want good food to be for our children and the only hot dogs we'll eat.
Good news: 2,275 hot dogs are in stores and restaurants now!
Bad news: We had orders for 2x as many hot dogs.
Good news: We almost have enough meat saved up for the next batch!
Bad news: The smokehouse is busy until October.
Good news: Fall bonfires!
Outdoors: 73°F/49°F Sunny
Tiny Cottage: 72°F/72°F
Daily Spark: Don't waste hate and don't horde love.