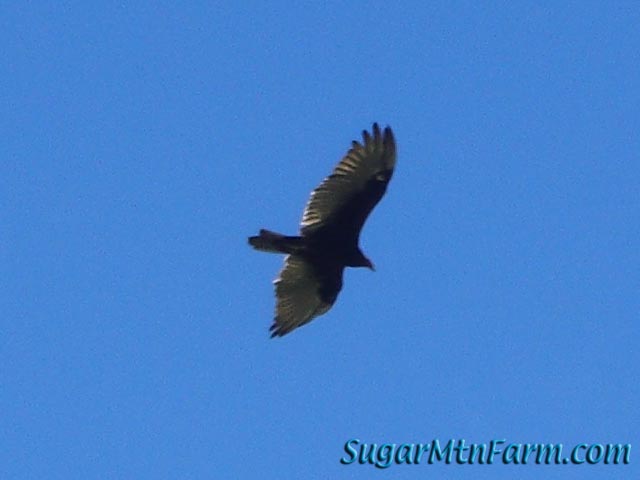 Tentative IDed Turkey Vulture Soaring
We were visiting with a neighbor who had come over and I saw this huge bird up the hill right over our pond. Will and Ben later told me it was just 30′ above their heads. Both of us go photos as it dipped and rose on the thermals climbing back over the home field trees and eventually northward.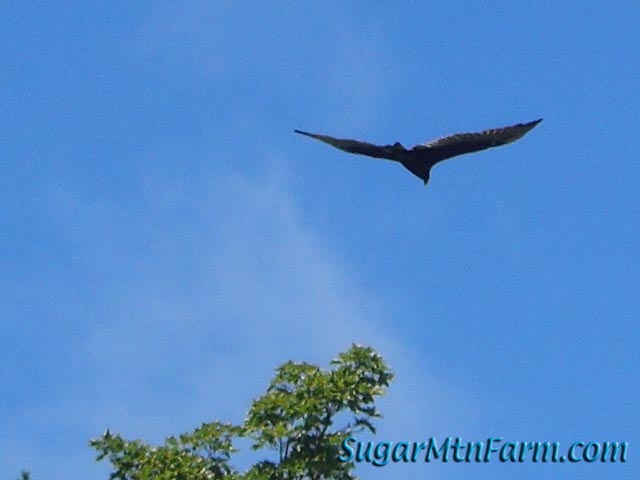 Over the Trees
With photos and ID charts from the web I've tentatively identified this as an adult turkey vulture.
Flapping for Height
At first I thought it might be a juvenile bald eagle – something we had seen about 15 years ago. We have marshes in the valley so an eagle might check them out before realizing there are no fish. There's also the upper pond which does have fish in it.
Soaring High
But using the zoom on the cameras and cropping in on the photos I could see the red head of the turkey vulture as well as the feather patterns better. I'm not 100% sure since I don't see either very often and they're pretty similar. If I had gotten a closer photo I would have more confidence in my ID. Perhaps some of you have more experience with birds and can ID it.[
1
,
2
,
3
,
4
,
5
]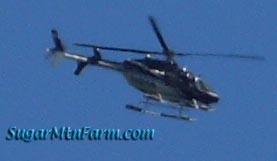 Not a Turkey Vulture or an Eagle
This one I am sure is not a turkey vulture or an eagle. It was way too loud and flapped continuously. This not-a-bird showed up just after the real bird.
Outdoors: 74°F/40°F Sunny
Tiny Cottage: 72°F/72°F
Daily Spark: The bleeding edge is where visionaries die.