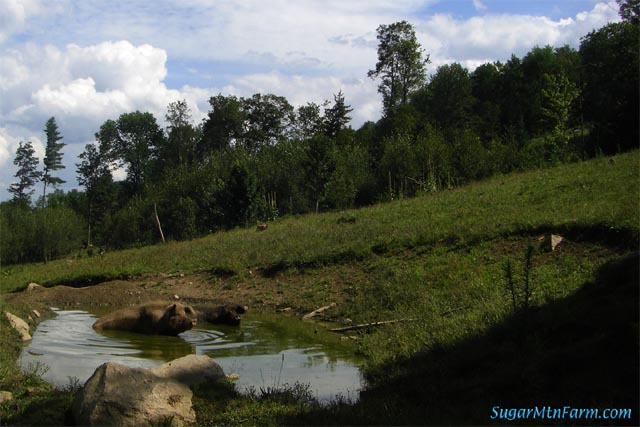 Pigs Out and Abby Cooling off in South Field Upper Wallow
Wallow. It is almost a
palindromic
word. Wallaw, wollow, wallaw… Rotate it upside down and backwards so it is even more interesting: Mollam, mollom, mallam… Or does that 'a' become and 'e' when rotated? Hmm…
However you spin it, wallows are near and dear to a pig's heart. Pigs can't sweat and they're not very good at panting. It is easy for pigs to overheat in the sun on hot summer days. To cool off they need mud or water. In a pinch they'll dig into the cool soil and lie tightly against it to dump their 103°F body heat to the 50°F soil. Even in a warmer climate with 75°F soil this technique works.
Far better is a wallow. Pigs love mud. This is not just a myth. Mud is far better than dry soil because mud is wet so it has higher rate of conductivity thus transfering their excess heat away from their bodies faster cooling them off more effectively.
There are some other benefits of mud. It acts as SPF 1,000 sunscreen which is very effective at preventing sunburn. White pigs don't tan very well so they can sunburn. By taking a roll in the mud they coat their skin with a layer of dirt that blocks the ultra-violet rays and protects their skin.
Mud is also very effective at fending off insect bites and it moistens and condition the pigs' skin. This is why in the warm seasons the pigs will normally be seen with their coats of mud on, wet or drying. They're not dirty pigs – they're well protected from the sun and insects.
All of these muddy reasons are so much more down south where the high sun hours are longer and the sun's intensity is greater. In addition to mud it is important for the pigs to have shade, be it under a roof, in the woods or in brush where they can retreat during the heat of the day.
I make larger wallows like the one above using our backhoe and bucket loader. It's just a dip in the soil that catches the rains and outflow from our watering systems. The pigs pack the soil and over time the wallow gets better and better, sealing up tightly. The largest ones the pigs actually swim in looking like hippos. Occasionally we'll see a piglet swim across a deep pig pond – a serious water trek. Yes, Virginia, pigs really can swim.
I've thought about trying to grow some water food stuffs for the pigs in the pig ponds but haven't tried it yet. Lili pads? Cattails? Duckweed? A project for future research.
So what about winter? Winter lasts five to six months of the year. The two weeks on either side of are mud season but not the pleasant mud baths of summer. Rather mud seasons are cold unpleasant times. During that short wet winter period mud is not a happy thing and we work to minimize it. We slope, ditch, swale and berm to control the flow of water. We use a lot more bedding during that time. Keeping dry makes a difference but isn't always possible everywhere. When the real winter sets in with its lower temperatures and dry cold – everybody is far happier once our landscape is frozen solid. During this time there are no insects, the sun is low in the sky, the pigs' hair coat gets thicker and they don't have the issue of having to cool off. The pigs do very well with the cool temperatures as long as they have bedding and protection from the worst of the winds.
This leads to a funny little story. Someone was visiting on a hot day one summer and saw a sow lounging in a mud wallow. She asked my why I don't hose off that sow and provide it with a proper clean straw bed. Her husband grimaced and explained, before I could, that the sow likes the mud. So true, so true. The lesson here is it is important to understand the why of things and to not project our human feelings and values on other creatures.
Outdoors: 80°F/52°F Sunny
Tiny Cottage: 74°F/72°F
Daily Spark: "There are a thousand hacking at the branches of evil to one hacking at the roots." -Thoreau