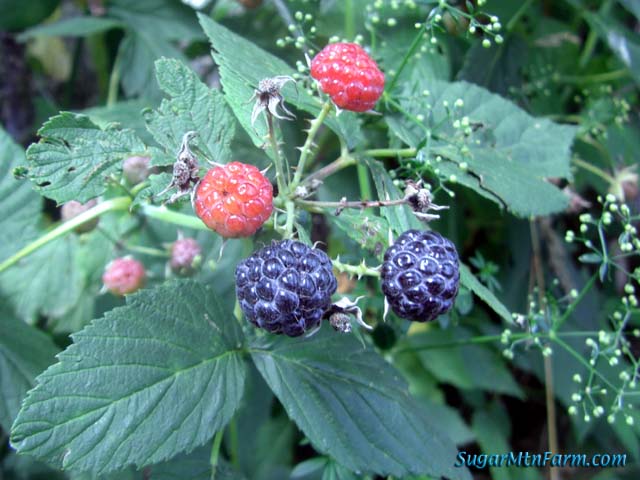 Black Raspberries
The strawberry crop this year was rather disappointing but the raspberries have been fantastic. The fruit started ripening two to three weeks earlier than usual and has been producing very heavily. Ben and Hope have been picking quarts and quarts of berries almost daily, some of which we eat fresh and some of which we freeze. A little bit of summer stored away for the long winter.
Most of our raspberries are the red ones (Rubus stigosus I think). We also have about 10% black raspberries (Rubus occidentalis) like those shown in the photo above as well as blackberries (Rubus fruticosus) which are just about to start producing. We also have blueberries and strawberries on the mountain. All of these are wild berries. After we did the clearing of the fields last fall the berries were among the first plants to come shooting up out of the ground. Their seeds have been waiting for years for the opportunity when the forest canopy would open up.
Another plant we forage is mint – it is time for the first cutting. Whereas the berries like the bright sunny places we find the mint in the cooler, wet shade areas. We'll dry the mint leaves to make teas for the coming year – hot in the winter, cold in the summer. Another great drink is a few raspberries mashed into water to flavor it.
Outdoors: 81°F/53°F Sunny
Tiny Cottage: 73°F/71°F
Daily Spark: Once you accept the universe as matter expanding into nothing that is something, wearing stripes with plaid comes easy. -Greg H.