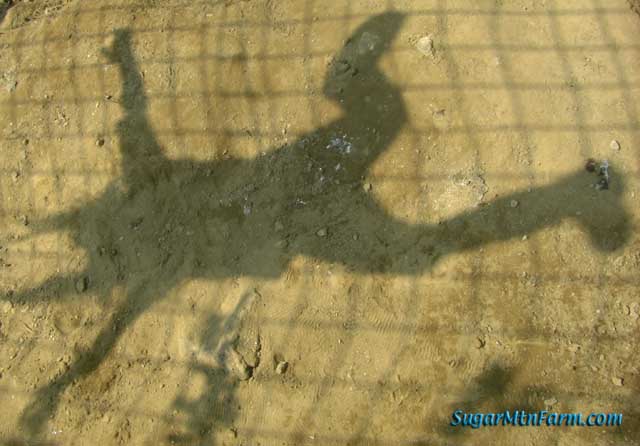 The Girl Who Fell To Earth
There once was a beautiful princess who fell from the sky. Her shadow hit the
Earth
but she missed.
Some say she was like Icharus but she had no wings, just a bird cage although not of King Minos. Besides, Icharus's aim was better – he hit the Earth.
Other witnesses compared her to Thomas, an extra-Terrestrial who fell to earth seeking water and a home for his people (the books is much better than the movie). This analogy failed too since she had no space ship.
She certainly isn't a Putto or a Cherub for some obvious reasons. She is not male, chubby or four faced. Sometimes she is a bit of an animal, perhaps a monkey or a ferret.
Hope in the Sky
Hope reveals her secret to staying up in the sky! So what is she on? It's a bird cage – of sorts. It's not really to keep the birds in but to keep the snow out.
Hope on High
The arch of cattle panel is so we can put up a translucent sheet of plastic in the winter. Will, Ben and I were putting the finishing touches on the new greenhouse for the chickens. This is so the hens will have a
place in the sun
when the weather turns cold. Behind the wire greenhouse is their
hoop house
all ready for winter. We're a bit ahead on some of our winter projects – a good feeling.
Outdoors: 74°F/58°F 1″ Rain off and on
Tiny Cottage: 76°F/72°F
Daily Spark: Shrinks get a head.