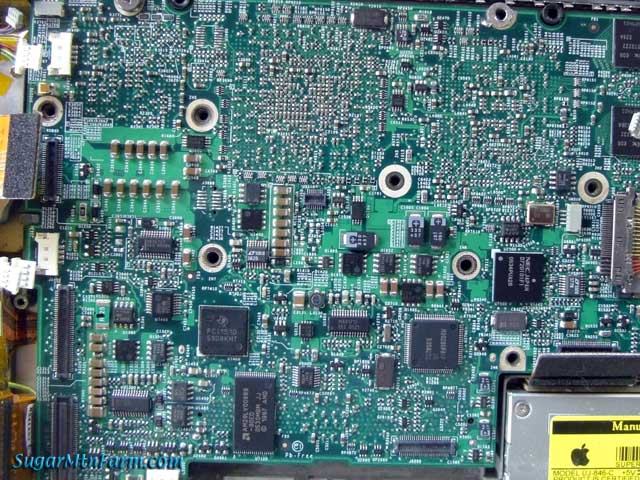 This is the brains of our operation. Well, the brains of my virtual world. It looks like a Google map of a city from up here looking down. Yet here in lies the guts, the central processor, mother board and various other components of my aging Apple Macintosh PowerBook G4 15.2″ 1.67GHz computer. That's a mouthful.
It was the last revision of its generation and as such the best. The bugs had been worked out. The computer worked solidly and soundly. It has labored for me for half a decade with only a minimum of repair.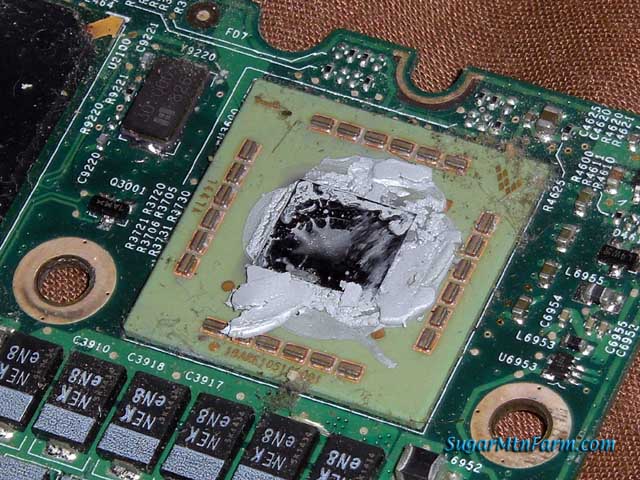 Heat Sink Paste Failure – Back Side of Mother Board
Then in May it started to over heat. At first it just got little hot flashes when we asked it to do something hard. Within a few weeks of the first symptoms it was bedridden more than it was working. As a temporary measure I cooled it with external fans but that only worked for so long. The problem was getting worse daily. In human years it is 120 so you might just say, "get a new one already!" But no, I tore it down and found that the main processor had become disconnected from the copper heat sink. Don't you hate it when you become unglued?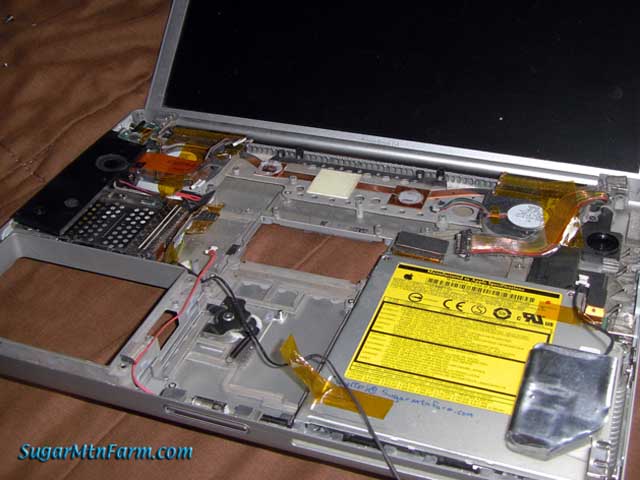 Gutted – the Cranial Cavity sans Brains & Other Parts
Bit of a bother is I had to remove almost all of the components and cables to fix it. The heat sink is at the bottom of the entire system and only accessible from the top by removing just about everything else. Static begone!
A bit of new heat sink grease applied to the main processor and the graphics processor and we're back in business. Now it is cool as a cucumber and calculating 32-bits at 1,667,000,000 cycles per second again. That's 1.6 Billion, the big B, Giga, Giga, Giga, 1.67GHz. And to imagine my first computer was a 8-bit 1MHz Kim-1. The speed comparison doesn't even do the difference justice as this PowerBook is about 6,680 times faster than the KIM and has 524,288 times as much RAM. Back then this would have been considered a super computer many times over. Amazing how things have advanced.
As I said, this machine revision was the end of a generation. Apple had something good and abandoned it. After this machine they brought out the MacBook and MacBook Pro with the Intel processors. Those won't run MacOS Classic / MacOS9 which makes them useless to me since I have some old software that I still need. It's not the hardware – it's the data and the tools, the software, that matter. So I'll keep fixing these old machines for as long as I can. The parts are out there on eBay. The worst part is simply there are so many dang screws in the machine.
Outdoors: 73°F/44°F Sunny
Tiny Cottage: 72°F/69°F
Daily Spark: If it ain't broke, don't fix it. -Old Yankee Proverb