Pastured Pork Hot Dogs & Sausage in Stores
Our next batches of smoked
hot dogs
, hot Italian
*
sausage and sweet Italian sausages are being delivered to stores by Holly as I write this. As always, they're simple and to the point,
NoWeirdStuff
as it says on the label. That also means no nitrates, no nitrites, no MSG, no routine antibiotics, no hormones, etc. Just great pastured pork from Sugar Mountain Farm and a few essential spices and ingredients to flavor it right.
Everything nice, just in time for the Fourth of July picnics and bonfires!
Speaking of labels, you might notice that the hot dog label has more on it than the sausage label. That is because the hot dog label has been through the full FSIS USDA label approval process required to put raising claims on the label such:
"Pastured"
"Bred, Born & Raised on our Vermont Farm"†
"Good Wholesome Food from our Family Farm to your Family's Table"
"We Free range our heritage bred pigs sustainably and humanely on grass & dairy without growth hormones or routine antibiotic use"
"We do not use gestation or farrowing crates"
"Uncured"
"No Nitrites"
"No Nitrates"
"No MSG"
Affiliations such as Naturally Grown Certification, Farm Fresh Network and Rural Vermont.
All of these are considered marketing claims that must be approved by the FSIS/USDA, a process that takes two weeks to three months. Rest assured that all the claims are still valid. We have changed nothing about our pork, pigs or farm – it's just a process of getting approval from the government before we can make the new sausage labels with claims on them. For the interim we're using what is termed a "Generic Label" that does not have the "claims" on it. It just shows our basic logo, name and address and we did get to put "Made with Sugar Mountain Farm Pork" along the top.
But, off of the boring, boaring topic of legal labeling. If you live in Vermont or western New Hampshire check out the following great stores and restaurants. Ask for Sugar Mountain Farm pork: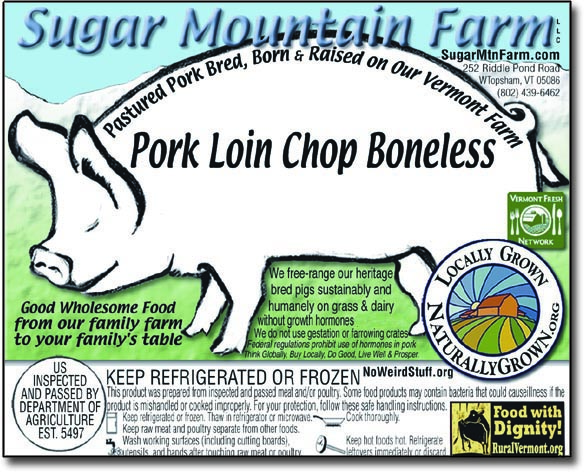 Sugar Mountain Pastured Pork
Of course, all of these fine sausage and hot dogs are in addition to our regular cuts of fresh pork delivered weekly to stores and restaurants throughout Vermont. In addition to the
high on the hog
there are plenty of additional cuts and oddments for the more adventurous cook who wants to try eating like the farmer's family. Check out the
pork cut chart
for great ideas! If you don't see the cuts you want at your local store then ask them to special order for you. Most special orders can generally be obtained within a week, especially if we get the word from the store by Monday. Deliveries to stores are generally on Wednesday or Thursday afternoons.
Also see: our other sausages.
Outdoors: 66°F/40°F Sunny
Tiny Cottage: 71°F/69°F
* Word of warning: The Hot Italian Sausage is extra spicy – we like a lot of kick! Nothing mild about these links.
Daily Spark:
Little boys are made of
Snips & snails,
and puppy dogs tails
That's what little boys are made of.
Little girls are made of
Sugar and spice,
and everything nice
That's what little girls are made of.
-Old Nursery Rhyme