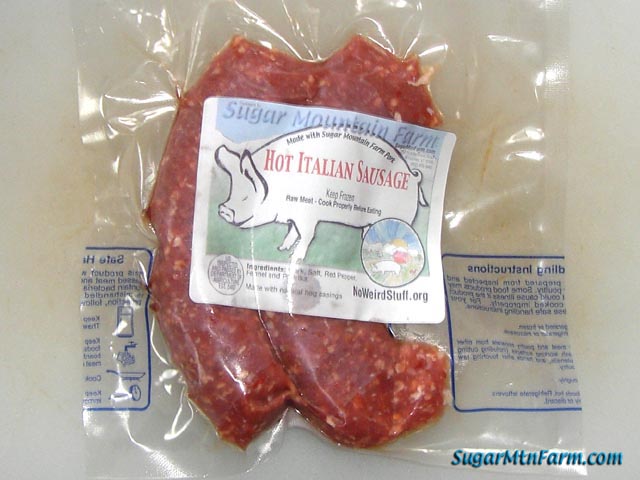 Sugar Mountain Farm Hot Italian Pork Sausage
We have sausage! In the past the butcher's we have worked with have not had the equipment to do real sausage. They called it sausage but it was really just spiced ground meat in bulk packages. To me sausage means links in a natural casing, or at least patties. Of course, one can take ground pork and make sausage at home but we have had many requests from customers and stores for linked sausage so it is gratifying to finally be able to offer it. Plus I like it.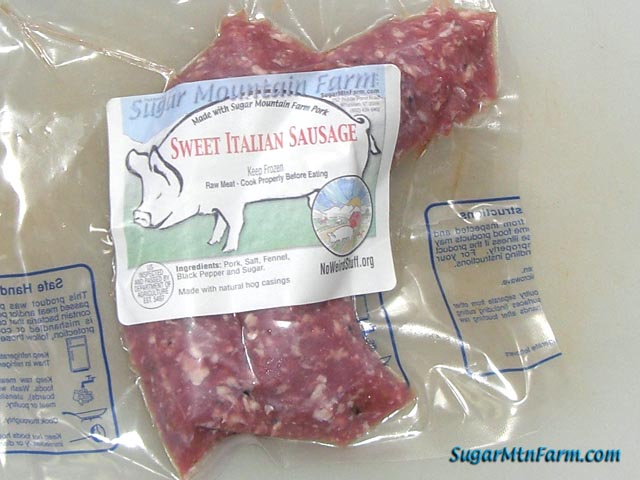 Sugar Mountain Farm Sweet Italian Pork Sausage
This morning Holly and Will drove down to the butcher and picked up our first two batches of sausage so guess what we had for dinner. Yes indeed! Scrambled eggs, German style potato salad and fried sausage. I realized it has been a very long time since I have had sausage. I stopped buying it in the stores back in the 1990's because I didn't like all the extra stuff like MSG, high fructose corn syrup and other junk that showed up in so many sausages.
Several years ago we started getting hot dogs made of our pastured pork using our own formulation with maple syrup. Just the good stuff. NoWeirdStuff at all. Follow that link to understand what I'm talking about. Notice the ingredients on the label. Short and Sweet.
Hot Italian: Pork, Salt, Red Pepper, Fennel and Paprika
Sweet Italian: Pork, Salt, Fennel, Black Pepper and Sugar
Well now we're one step further with making linked sausage. Tomorrow the first two batches, already sold out, will be delivered to fine stores and restaurants throughout Vermont. Check out:
If your favorite local store in Vermont isn't on that list tell them to contact me about carrying the sausages. For our delivery route see this post.
Now that we've gotten the formulation, labeling and everything down for these sausages I look forward to being able to offer the sausage almost every week through the stores along our delivery route. Later we'll add additional types such as maple breakfast sausage. I would be interested to know what your favorite sausages are, whether you're local to our area or not. Leave suggestions in the comments.
Next week we'll be getting our next batch of hot dogs back from the smokehouse just in time for the Fourth of July. I'm looking forward to that as I love them over a bonfire at our upper pond!
Also see: our other sausages.
Outdoors: 73°F/53°F Partially Sunny
Tiny Cottage: 70°F/67°F
Daily Spark: Cheap Karma is when you can do something good for someone that costs you nothing. Spend it freely.