Italia Nesting in Far North of High North Field
The other day on the
field walk
I mentioned that one of our new gilts Italia had farrowed in a beautiful spot up along the verge of the new fields on Sugar Mountain. She is just down from Big Rock, a land mark for us.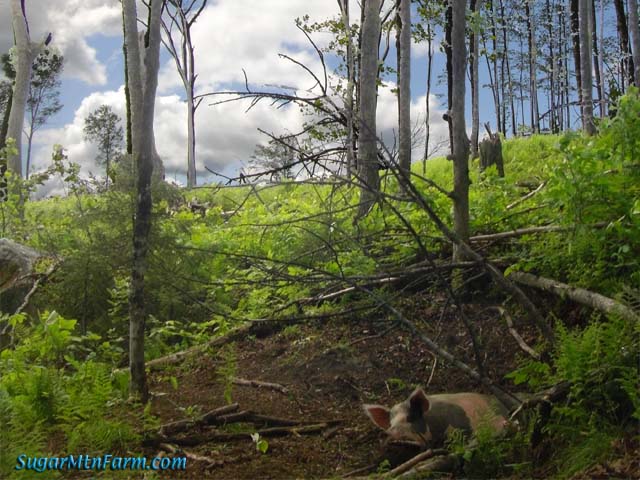 Farrowing Nest at Field Forest Verge
The orientation and location gives her the warm morning sun coming in under the trees and then shade during the heat of the day. It looks like she had spent quite a bit of time preparing her nest among the ferns.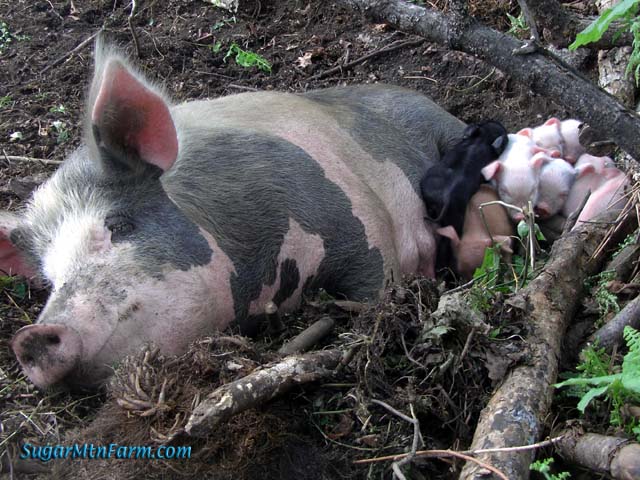 Italia and Piglets
Italia is a daughter of
Blackie
, one of our top sows. Italia gets her name from the birth mark that looks like the boot of italy with Sicily off the coast.
Another pig was named Soviet, because she had a perfectly formed soviet flag, on her butt. No political statement implied but we do take our geography lesson's seriously here at Sugar Mountain Farm. It's a great way to name new pigs.
Woken Piglets
My
paparazi behavior
disturbed the piglets who scurried to hide behind their mother's bulk. Soon they were peeking over Italia at me to see what the funny man was doing.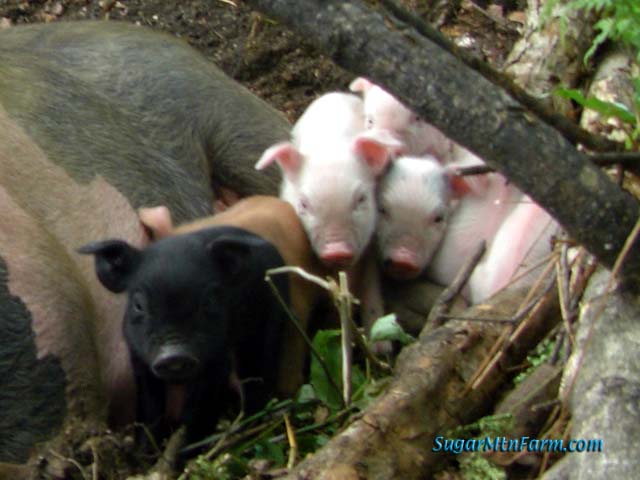 Italia Piglets Investigating
After a few more minutes of waiting the more adventurous piglets came forth to investigate and get their photo taken. I like to get a photo of each new litter to record who's who and who came from which sow.
With this litter Italia changes from being a gilt to being a sow. This is the same as the old term of a virgin to a woman being the difference before and after actually having a child. The reason this differentiation is important is not all females, or males, are fertile. With each litter I look for the best of the best to become breeders but then they must prove themselves to stay on the farm. A gilt who does not take is taken. That is the way. Not as in whey but as in Tao of the Pig.
Outdoors: 68°F/42°F Cloudy, Spots of Sun, Spots of Rain
Tiny Cottage: 69°F/67°F
Daily Spark: Paranoid people perceive suspicious wishes from rotten fishes.