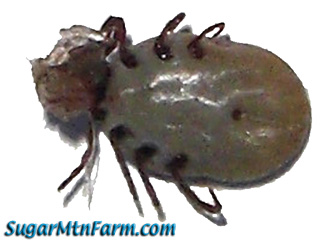 Not My Tick
This is not my tick.
This is not my tick bite.
But I'll burn and pop it.
I have no sympathy.
Kavi and Lili each brought one home to show me what wonderful things they can find on walk-about. Blach! Interestingly both ticks were on the same spot, just under the left earlobe, on each dog. That's a bit of Kavi on the end of the tick – I removed vigorously with forceps being sure to get it all. Usually I use a hot match head to make them release but I had forceps for other reasons.
Usually we don't have ticks. Well, maybe one or two a year. The chickens do a very good job of keeping our pastures clear of the ticks and other insect pests. This is the primary reason we keep so many chickens even though we don't raise them for meat or eggs. Those are just side bennies.
The dog's bringing back these ticks when they roam further demonstrates the blood sucking vampires are out there. The fact that we don't have them closer shows that the chickens are doing their job. Good to know.
Outdoors: 68°F/41°F Light Rain, Overcast
Tiny Cottage: 72°F/69°F
Daily Spark: It is a good thing some people only get 15 minutes! -Holly