Holly, Hope & Pups
In the last three years we have lost five of our adult livestock guardian herding dogs. This has seriously depleted our pack. Last fall
Katya
was born. This spring we welcomed three more pups.
The latter two look like identical twins at first, second and third glances. There are differences to the keen eye. Sirus has a tell-tale white V mark on his chest. The marks on their front paws are just barely different. Most of all though their personalities are different with one always being the leader of the way into new places and back home again. He is definitely the adventurous type yet he always knows how to return, thus his name. He is also a climber, scaling vertical walls and fencing. We've watched him do pull-ups to get over a fence, unusual upper body strength in a dog.
Sirius is more the cautious of the three and named for Serious Black and for the Dog Star. Both of them are tri-colored but predominantly black, something that is rare in our pack colorings. Even though they are black they're starting to show the arrow on their tail of darker black fur.
Kit looks like a fox kit and is in the overall tri-colored K-series like Katya, Kita, Kia, Kavi, Kira and Katrina – thus his name. He started out a grey brown but his markings are beginning to darken and develop. He will likely look much like his father, grandmother and the rest of the K-dogs in our pack ancestry by the time he is full grown.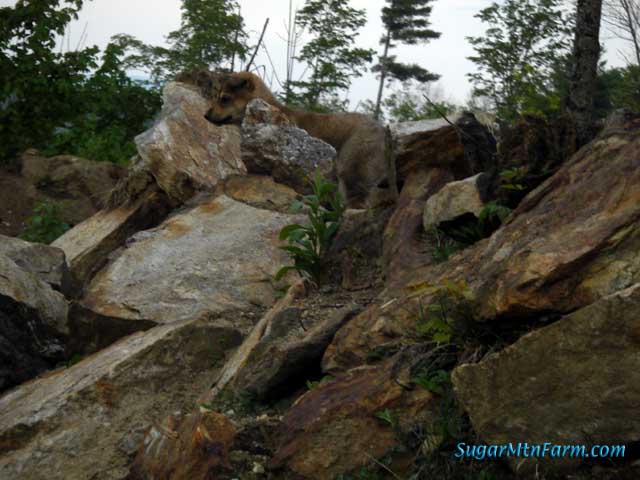 Spot the Rock Dogs #1
How many dogs can you find among the rocks? Their camouflage hides them quite well, until they move. Puppies rarely hold still for long so that helps.
They have been hunting mice among the rocks. Even at this young age they know exactly what to do with them. Kit is the most advanced hunter of the three, interesting since he seemed to lag previously. I guess he found his calling of the wild.
Spot the Rock Dogs #2
Spot the dogs? How many can you count? They're starting to have their ears upright at this point.
Katya is still larger than all three of the new puppies put together but I suspect they're going to surpass her in size. She loves baby-sitting the puppies and was curious about them from day one. This means she can spell Lili time to time.
In other news, I got the soaker hoses out into all of our gardens. Following that we got about an inch of rain. Works every time like a charm.
Outdoors: 72°F/47°F 1″ Light Intermittent Rain
Tiny Cottage: 67°F/65°F
Daily Spark: What do you call a cracked egg? Insane! -Hope age 6