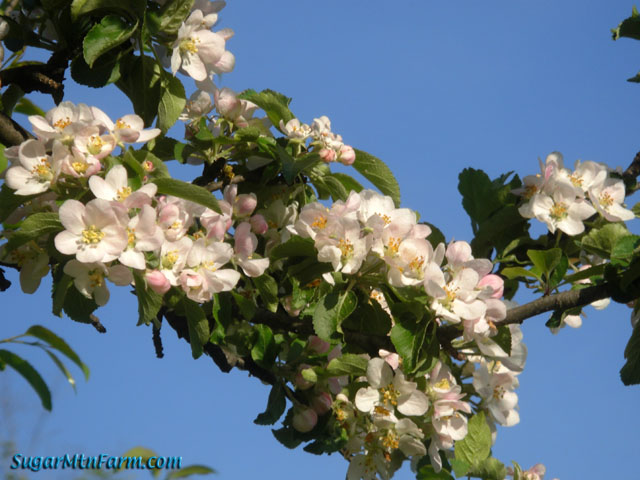 Old Apple Tree in Morning Light
The settlers who came here from Europe, to land they had purchased but never seen, got 100 acre lots. Many of those acres were rather vertical making farming rather challenging for people used to the gentle lands of England and such. Apple trees are one of the things that do grow very well here and they brought them along. Throughout our valley there are clusters of apple trees that are very old. If you look closely in the leaf litter you'll find the granite stones of foundations from homes that were once there making up the village that existed in our valley. The apple trees are the surest way to find those long ago homesteads.
Apple Blossom Clusters
Last year when we
re-cleared
the woods that had been fields in the beginning of the last century we carefully flagged and released a lot of apple trees. These old maids had become hidden by the over story of the forest and were in a sad state, not getting nearly enough sunlight down below the canopy. These, along with the beech and walnut trees we left, will now expand and provide food for wildlife as well as our livestock. It is remarkable how quickly they can recover.
Apple Blossoms Close-up
This particular apple tree sits along the whey driveway at the mid-level. When we came to the mountain twenty years ago this tree was dying, having perhaps only a few pounds of live wood still in existence above ground. This house was built around the time of the Revolution. No one lived in it during the first part of the last century except sheep. Then for a while it was used a bit as a summer camp. The apple trees were planted before
Lloyd
was born according to him. He is the previous owner. He recently died at nearly a century of age. He had been born a mile up the road at one of the house on our land that is now just a cellar hole. It too has apple trees around it.
Lloyd was almost 100 years old. The orchard was here when he was a child. Sheep were here throughout the first part of the last century up to the 1960's or so. Are you following the time line… The fact that this tree is here at all says it was a mature tree before the sheep came because they'll peel the bark of a 20 year old tree just by looking at it. Sheep are not kind to young trees. It means that this tree was planted back before 1900, possibly long before that. It is a very old apple tree. The base is thick but hollow so I have no way of counting the rings to gauge its age. It is simply the old apple tree.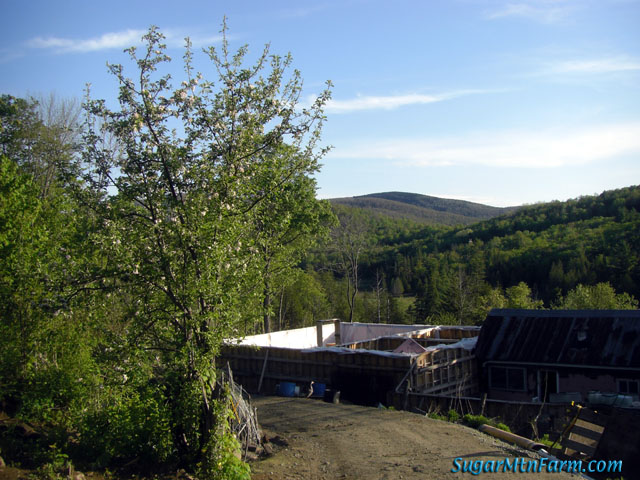 Apple Tree with Butcher Shop Rising before Mountains
This tree was the last one standing from the orchard that had been on this east facing hill where our farm house sits. When we got here the others were definitely dead and I expected it to die with all the rot in it. I ignored it. About six years ago Will and Ben cleared out all the brush around the tree. I sawed off the
dead wood
and we watched to see what would happen. I did not expect a lot.
Gradually over the last half decade this tree has come back to life to join the new apple trees we planted. The old lady is only about 15′ tall and almost that wide, nothing like her former glory but getting there. In 2006 she offered a couple of apples to us. Perhaps a gift for releasing her from the bondage of the forest. She gave us a few more the next year. Last year she produced several crates full of apples. Smaller than store bought but appreciated. They are greenings of some type, a bit tart.
This year she is covered with a huge number of blooms. She looks vibrant in her new outfit. The air around her is scented with her fragrance and the ground covered with white petals that flutter down in the breeze. The other apple trees near her are blooming too which will provide her with suitable suitors for the bees to match up. In June I'll need to seriously pluck back extra buds so as not to over load her branches with growing apples.
It is good to see a tree doing so well and it is amazing to realize just how old this tree is and how close it came to death before its rebirth.
Outdoors: 70°F/37°F Sunny
Tiny Cottage: 69°F/61°F