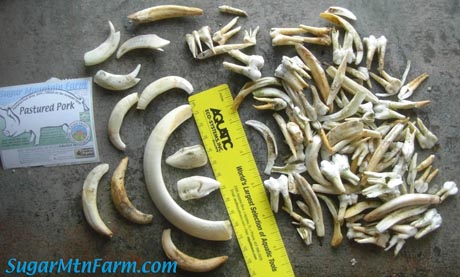 Boar and Sow Tusks and Teeth
This is a test post. Test posts are fun. Right?!? Well, they should be. Let's talk about something interesting. How about them Red Sox! Never seen them. Okay, how about something interesting that I am familiar with… Weather. We could talk about the weather all day long. In fact, the weather changes so much that it is worth talking about. Each week for the past month we have had a snow storm. Just when you start to relax and think spring is here, whammo! More snow. But that is par normal. No conspiracy. No global warming or climate change. That's just the way it is. Today was balmy, breezy and wonderful.
So, what did I do today? First I rewalked a mile and a half of fence line with Ben. He and I both worked at clipping back the brush of the new perimeter fence around our new pastures. I also permanently set the corner attachments. Previously many of them had simply been tied to trees which was leaking electricity and I'm sure the trees didn't like it. The fence is up to 3.6KVolts at the far end. That's 3,600 volts. That's one heck of a big ouch! I touched it and got the full shock through my rubber boots three different times. It would have been more interesting bare foot. See this post about testing fence lines by licking them.