Early Neo–lithic Homes
Today was a rainy day so we didn't get to do much work on our
Big Project
. In any case, the concrete needs watering so the rain isn't wasted. The above little houses, nano-houses, are getting wet too. Those are very early models of our house. They look more like igloos for gnomes. They do have real granite floors and window sills, just like our cottage.
Small houses are in vogue. We didn't build our cottage small because of some fad or environmental concerns. Yes, it took little to build and uses very little energy, but that wasn't why we built a tiny house. We built small because it was what we could afford in money and time before winter hit hard. Good thing we did it at a reduced scale because we barely got the house closed in before the winter snows hit hard.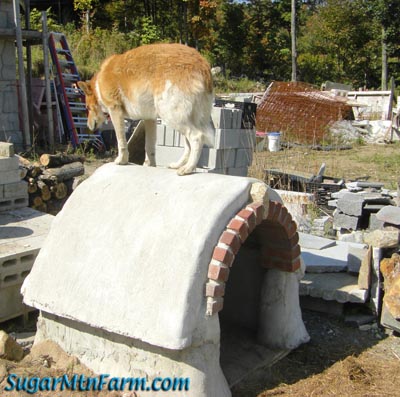 Saturn on Dog House
It took us two months of intense effort working full time to close in the house. Doing out the math shows that compared with having a mortgage or paying rent it would be cheaper to take a year off and build your own home. The numbers work. Building small houses make the numbers work even faster. The maintenance and taxes are also far lower, added long term benefits. We'll never paint this house and never need to re-roof it once the final roof layer is on and the grass is planted. A concrete roof lasts, especially when protected from the elements and sun. Even the dog house, exposed to the weather and sun, looks great after years of freeze thaw cycles.
Tiny Cottage in Bloom
Prior to building our tiny cottage, the real one, not those fun models, we had built several pig houses and a
dog house
. I do things by practicing in small steps, over and over, each time working out technique. The dog house is a 3′ roof. One of the pig houses was four feet. The cottage roof is a 14′ clear span barrel vault. Our Big Project will have a 34′ clear span barrel vault. Ever onward and upward.
Outdoors: 50째F/26째F Rain, Clouds, Sun, Foliage
Tiny Cottage: 66째F/63째F