Chicken Hoop House Buried in Protective Snow Bank
Many years old and well broken in at this point.
Pink foam covering egg doors so accessible.
Greenhouse attached at far end (south).
Sarah wrote:
We are studying your plans for the chicken coop hoop and wondered where you get your TekFoil from. We're able to drive up to Barre or wherever. I'd rather buy local than try to mail order the stuff.
Thanks!
Sarah
Hi Sarah,
We've gotten foil-bubble-bubble-foil from Allen Lumber in Barre, VT. Most building supply stores should have it. It comes in 50'x4′ rolls and was about $100 last time I priced it. At that time they were a very good price compared to other sources, with shipping, on the web unless you're ordering huge amounts. They also deliver to us for free, a nice bonus. I believe they call it AstroFoil or something similar. There are many brands. All essentially the same thing. If one didn't have a local source I would look to FarmTek online.
Below is a copy of the original article I wrote elsewhere about our chicken hoop house but have never gotten around to posting here on my blog. That will give some construction details that will be of use. I've also added some notes for improvements after all these years of using it.
Chicken Hoop House Construction
The 2x base, rebar ribs, wire frame and an old sheet modeling as a cover.
The wire hoop chicken coop. It consists of a 12'x4′ 2×4 base with corner triangles of plywood for bracing. The front 2×4 is extra long so that two people can pick up the front on either side outside and drag it. Alternatively since it is so light one person can move it by standing inside in the doorway and lifting and dragging. I had planned to put some old skies on the bottom but it slides fine without them. We drilled holes in the 2×4's and inserted rebar and bent it into hoops to be forms for the wire. Then starting at one end we put on 3′ wide wire mesh. I used 1″x1″ mesh but in retrospect would have used 2″x2″ mesh which would have been cheaper and still have done the job nicely. Don't use nylon ties to attach the wire. I did at first and then realized that the sun would destroy them so I switched to 17 guage fence wire.
After getting the hoops of wire on we did the nest box shelves and back wall and lastly the front wall. All the wire that met the wooden base frame was stapled on using fencing stables. The last step was to make the doors. The hinges and latches were simply made by bending the wire in loops and hooks. All wires around the openings were bent back to make the openings safe to pass through.
It took us about five or six hours to do it but would go much faster for a second one since we spent a lot of that time figuring out how to do things. The chickens were very curious and started moving in before we finished. We then fed them in the hoop house and locked them in at night a few times to encourage them to bond with it.
Inside view – still no real covering, just the old sheet for shade.
The inside of the hoop house showing the nesting shelves in the back, the roost bars going crosswise and long wise and a bunch of silly chick who thought I was going to feed them so they posed for the picture. Note that the cloth on top is hung so that the south side gets more protection. Right now we only have about half covered for rain protection. In the winter the whole thing will be covered and then with hay so the snow builds up on top making it into a chicken igloo. The long roost bars that run from front to back are on a slant so that small chicks will be able to hop up onto them and walk up.
Back view showing egg shelves
Back side of the hoop house showing the three egg shelves and egg doors. The top egg door is open. The drape is lifted up here.
Back view of egg shelf access door
Detail of one of the three egg doors on the back wall that let us reach in to gather eggs from outside. Each door was successively smaller such that the material from one got used as the door for the next. The wires were bent loosely to form hinges on the top and spring latches on the bottom.
Earlier smaller try – same basic design.
This is our old small hoop house which served one batch of chickens for years, acted as a brooder and is now used mostly by the ducks. It is built like the big wire hoop house but no rebar or door and only one nesting shelf in the back. It is small enough and light enough that a child can move it yet heavy enough that it has never blown around in our strong winds. Part of why it doesn't get wind blown may be because it is low to the ground, the roof is curved and it has a wide base with most of the mass in the base.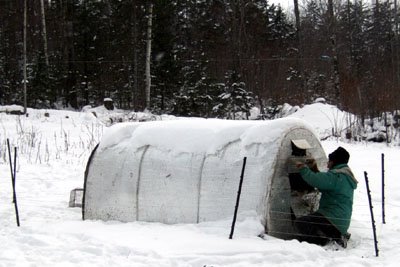 The new hoop house after covering with FBBF
When winter came we added Foil-Bubble-Bubble-Foil (FBBF) tied to the exterior with black zip ties. to cover the hoop house as described in the
Winter Chicken Hoop House
article.
Update Ideas
If I were rebuilding the hoop house I think I might go with cattle or hog panels for the hoop structure. The local sources I have for that are Farmway, Tractor Supply and Agway. Cattle panels at $50 each for 16'x4′ are considerably more expensive since what I used, the wire and rebar, were what I had on hand. The extra height would be nice. I think the weight would come out about the same and they would be even stronger although that has not been an issue. We flip our chicken coop over on its back once or twice a year to let the sun and air clean it when we're going to move it so you do want a strong structure. This flip and air is an easy way to get rid of junk. Debris dries and falls out and may be why we've never had a problem with mites.
The spruce 2×4 base is still lasting well after all these years of contact with the soil. I had wondered originally if I should use cedar, something we have, but in retrospect the spruce is fine as well as a lot cheaper unless you have your own cedar or other longer lasting woods.
For joining the foil sheets there is a better grade aluminum(?) tape sort of like duct tape. Try that. I have used packing tape and duct tape. Both deteriorated and required replacing annually. The foil tape may last a lot longer.
The chickens like to walk on the roof and peck holes. Putting a sheet of typar or other house wrap on top of the foil would help make it last longer. Although, we still have the original foil-bubble-bubble-foil sheets on there and they're doing fine despite the holes.
Wind is the big problem. This is why I like a heavy base. Do not put it in a high wind spot or if you do, make something to block or the wind can rip the foil. We had one piece rip off and had to tape it back on.
We did put wheels on ours but did not find them useful as our terrain is so rough. It is simpler to pick it up and move it by hand with one person on each end. It is heavy. If you have smoother land then wheels would be grand.
In the winter put the hoop house up on hay bales and just keep adding hay all winter. Don't clean it out. Let the hay accumulate inside creating a warm floor compost pile. In the spring let it compost. Then plant there later. Don't work harder than necessary turning or cleaning.
Come winter I would suggest definitely adding a
sunroom
– The chickens love it.
Have fun and enjoy those eggs to come! Our hens are picking up production as the days get longer. Today they were out walking on the snow, something they've been avoiding. They're loving all this sunshine and warm weather.
Outdoors: 44°F/18°F Sunny
Farm House: 32°F/32°F
Tiny Cottage: 65°F/62°F No fire