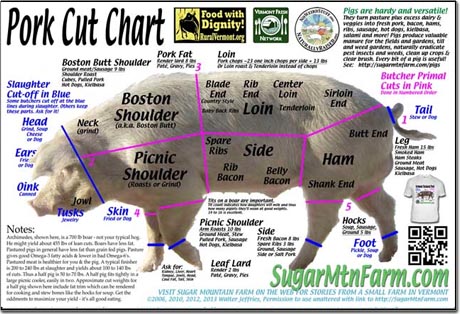 Click the image for a larger graphic with readable text.
It is always interesting when you get a surprise hit single. I made the chart above originally for my own purposes of studying the cuts of meat on a pig. I kept expanding on it. Then I made it into a graphic for a
post
about what meat was in a half pig share.
Many other farms have asked if they could use the chart with their meat CSA customers. The answer is yes, just provide credit & link back – see here for details. Many farms have used it under the reasonable terms I've offered of giving us credit and a link.
One farmer in Canada and another in Virginia stole the poster and removed my farm name grossly substituting their farm names – bad boys, bad hack jobs, I sent them bills for copyright violation, they ceased and desisted.
The poster showed up on Britain's BBC Television in a documentary (Wow! Cool!). My chart even rose to the top of images on Google for Pork Cut Chart out of 144,000 entries! I guess that is sort of like having a top of the charts hit in the music industry. :)
Later the poster became a poster for stores and restaurants selling our pastured pork. The poster was a huge hit with chefs at restaurants and is hanging in some big stores that otherwise refuse to hang vendor artwork. They allowed the poster because it is so educational. Customers and workers love it so much they have asked for copies to take home. Good thing I got the poster printer! (Print copies are available here.)
It's always fun to have one's work appreciated. Well one thing led to another and last fall someone asked for a T-shirt made of the poster so I simplified it a bit and made one using the design below. One thing lead to another so we have T-shirts. What fun!
Pork Cut Chart T-Shirt Design
The original artwork had too much detail and a lot of fine lettering that won't have worked on a T-shirt so I
K.I.S.S.
ed it making a variation of the design that would work on fabric.
If you don't mind someone staring at your chest for extended periods and you are interested in a cool Sugar Mountain Farm T-shirt featuring our big boar
Archimedes
and his goof ball grin, check it out at CafePress. There are two versions:
No, Archimedes is not cuts – he's cavorting with his ladies out in the field making sure we have more piggies in thee months, three weeks and three days.
An epiphany is sort of like an enema for the mind. -WJ
Outdoors: 27°F/10°F Partially Sunny, Light snow 3″ overnight and in morning
Farm House: 43°F/36°F
Tiny Cottage: 62°F/58°F Vid Shelf
Artwork is subject to change but is similar to what is shown.