Update: This is a historic post. To buy a poster see the Posters page for up-to-date pricing and availability.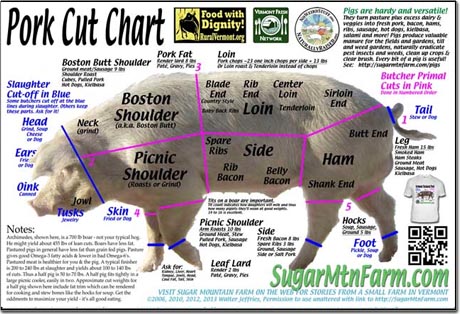 Click the image for a larger graphic with readable text.
Interestingly, the above post has turned out to be the favorite among stores, restaurants and chefs. Last year I had gotten a Epson Stylus 1400 printer for
making posters
for our customers to hang in their business locations and kitchens.
Anyone who would like a poster (~13″x19″) can order them for $15 each plus $5/shipment for postage. The above pork chart is available in a slightly simplified design on T-shirts at CafePress. See this article for more details and a large graphic. Customized versions with your farm name replacing the green SugarMtnFarm.com are also available or an initial $25 cost plus the above pricing. That will still retain the light blue print with our link and info. You may use the graphic as-is without modification for free on your web site if you provide a clickable link back to https://SugarMtnFarm.com directly below the poster. If you have any questions, please email me at walterj@sugarmtnfarm.com
Note: Sizes, prices and shipping costs are subject to change. The above is what it was in 2008 but the cost have increased since then – inflation is. To find the latest costs just drop me an email.
I had originally made the poster for myself several years ago to help me learn about the different commercial cut names and where they came from. Later in 2006 I used it in the "What is Half a Pig" article. It grew from there into a poster we passed out to retailers who carry our pastured pork. Interestingly this poster has even appeared on BBC TV in England. (YouTube version at 3 minutes and 30 seconds). The cut chart has also shown up in Japan as has one of my photos of our roosters on a science program on Japanese Television. What fun!
I have let many other farmers use the poster, as it clearly allows on the bottom of the design, with the caveat that it must be unaltered and link back to my web site, a reasonable request. One web designer in Canada did steal it and blot out my name and contact info. Fortunately one of you spotted it. After some strong language the web designer took it down. I don't mind sharing but it is appropriate to give credit and a link when one uses something someone else has created.
I just updated the poster with some new information. If you click on it you can see a larger, more readable, version.
On a closely related note, I get questions from people asking about how to specify the cuts of pork they want a butcher to do. If you're facing this question, perhaps you raised pigs and they're ready to go, then check out the order form. That may help answer some of those questions. Feel free to print and use it when you go to the butcher. Also be sure to read the "What is Half a Pig" article which will give you some more background on the topic of going to the butcher.
By the way, a pig is about two to three cu-ft of freezer space for typical cuts with bones. There is about 35 to 50 lbs of meat in a one cubic-foot box depending on how tightly it was packed. e.g., ground meat packs more tightly than ribs, hams and roasts.
Outdoors: 59°F/43°F Sunny
Farm House: 69°F/50°F
Tiny Cottage: 67°F/62°F