Marshfield Horse Arenas
Ouch. Big ouch. Sick in the stomach ouch. Snow loads collapse buildings. The above is a rather sad example, almost like a before and after with the remaining arena on the right and the collapsed one on the left. I feel badly for the owners and am glad it is not my barn. This is one I spotted in Marshfield, Vermont along Rout 2 while we were making
hot dog
deliveries this week. (This is at the Curle Horse Farm according to George over at the blog
The Vermont Gardener
.)
Closer View of Collapsed Arena
The department of agriculture issues warnings every winter asking farmers to shovel off their roofs to avoid this sort of disaster. I can't imagine shoveling off that arena or other huge barns. Doing so would be very dangerous in and of itself.
One solution is to make the roof shed like older homes with their steep pitches. That does require extra wood, roofing and loses living space. I see a lot of modern homes with shallow or flat roofs. The storm of '98 collapsed a fair number of them – including the 1950's hunting camp on our land.
Making the roof extra slippery such as standing seam so it sheds more easily so a lower pitch will work. Of course, it is important to have a place where that snow will dump and not backup onto the roof.
Another solution is to make the roof extra strong so it can support any snow that may come.
Most roofs that last use a combination of these three techniques.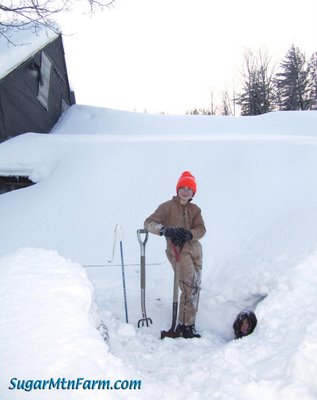 Our Farm House Buried in Snow
Ben is standing about 4′ above the summer ground in the photo above. That is the current level of the front lawn. Some of that height is the snow dump that has accumulated from the roof before it backed up. Our old farm house is currently almost buried in snow on the east side of the kitchen – shown above – as well as the hay shed on the west. Fortunately the early settlers who built it around the time of the revolution built it strong with full log beams and with steep roof pitches. Lloyd, the previous owner added a horse shed and porch, both of which he built extra solid. Holly and I added a hay shed, again built very solid to hold even very deep snows since I couldn't make the hay shed dump every time for sure.
On the tiny cottage the roof is designed to retain the snow for insulation and to be strong enough to hold any depth of snow and ice. It is a ferro-concrete barrel vault. Eventually the roof will even have dirt on the top and be planted with grass, thus why it is designed to be so strong.
I have another structure I want to do that I plan to have shed instead. This year we hope to build a large greenhouse. Thus I've been studying collapsed structures, especially those with clear spans. I would rather not experience what I've seen. Eeek!
Outdoors: 25°F/14°F Mostly Sunny
Farm House: 60°F/48°F Platform built for 3rd whey tank
Tiny Cottage: 61°F/47°F Coat hooks in entry, Ventilation duct east opened at bottom