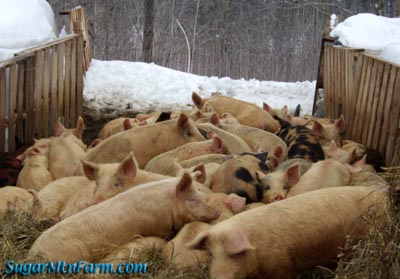 Pile of Pigs in North Herd
Pigs are not early risers. A few might get up for a sunrise snack but it is very common for the majority of the herd to sleep in until mid-morning. These finishers in the north home field winter paddock are giving me the eye, wondering if perhaps I might have a treat that would be worth rousting themselves early.
To either side of them are large round bales of hay lined up to block the prevailing winds. The pallets protect the bales from the pigs. When I'm ready to feed out a bale I simply move a few pallets and roll out a bale. I say simply… the bales weigh 1,200 lbs. I'm wishing I could get the pigs to help – often they're on the other side of a push while we try to roll a bale!
We have several lines of these hay bales in their winter paddocks. The alley's of bales open up into the winter field. Actually, they can get out to the bigger fields they use in the summer, although for the winter they don't tend to. Rather the pigs stick closer to home for the winter, using established trails through the deep snow and choosing to spend most of their days in the 'pig yards' much as deer do in 'deer yards' when the snows get deep.
Outdoors: 13°F/-7°F Mostly Sunny
Farm House: 55°F/43°F
Tiny Cottage: 54°F/48°F