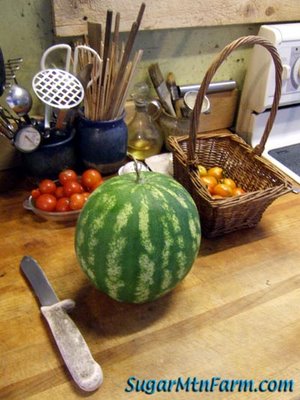 For years I have tried to grow watermelon. When they actually grow, as opposed to wilting off, I get fruit about the size of my fist. Sweet, but tiny. This year for the first time we got not one but two almost basket ball sized watermelons. I thought they were Sugar Baby watermelons but I'm not sure based on the color pattern. They were delicious!
Our short growing season makes watermelon a decided challenge. This year was a longer frost free season that usual and that certainly helped. But of the 50 watermelon seedlings I started and planted I only got two melons. Both came from a group of six plants I had placed just along the opening of the house end pig shed where they got wind protection, lots of manure from last year's winter farrowing, lots of water from the overflow of the spring and the warming effect of the translucent shed roof. That spot is on the southern corner of the old farm house and gets the maximum amount of daily sunlight.
Of all the factors, I think the house end shed, with it's warming of the local nano-climate, was the biggest effect. It is sort of like an open greenhouse. Under the shed it is always much warmer. Important since our summer temperatures rarely get above the high 70's. Under the shed roof and right around it was considerably warmer. I suspect that the watermelons need those higher temperatures. Tunnel greenhouses, something I tried with them before, might not have worked because it was too wet causing all the plants to damp off.
So, 50 plants produced two watermelons. That's a pretty bad ratio. But, I have proved I can do it and think I can duplicate it. Time to start planning next year's garden.
Speaking of food, we finally went shopping, did laundry and in town errands. Yes, we're that family that comes in and uses all the big washing machines… We try to schedule for slow times. Usually we go in every three months but will need to adjust that schedule now that we're in the tiny cottage where we don't have as large a pantry. Time will tell but my guess is monthly or even every two weeks will be necessitated until we build the new cold cellar up on the hill behind the cottage. Another year's project.
Outdoors: 42°F/30°F Mostly Sunny
Farm House: 55°F/52°F Shopping & Laundry
Tiny Cottage: 63°F/51°F Fire! (in the wood stove) Door and windows open most of day for burn off of pipe and stove. Still smelly.