I'm fascinated by frost. In our old farm house we get frost on the windows even though they're double pane with storms. It is the nature of a very old house.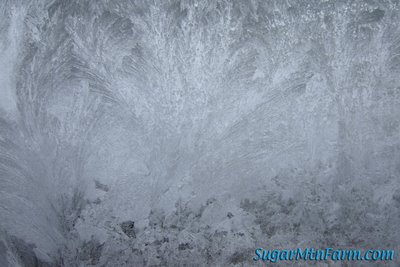 With the tiny cottage's single pane windows we've been seeing some beautiful frost images.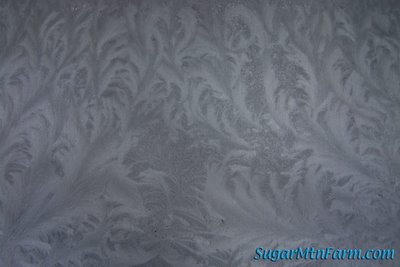 These are now a thing of the past.

Because recently we put in the second pane of glass in the window frames. Now frost no longer forms on the inside of our tiny cottage windows.

One of my little helpers washing windows before we installed the inner panes.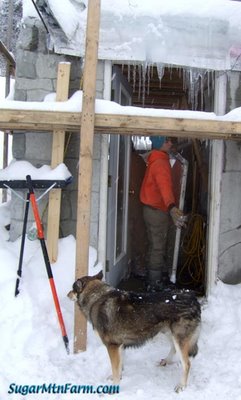 We got all our windows salvage. Otherwise I don't think I would ever be able to afford such huge gorgeous views. The old farm house has no views and gets very dark in winter. The tiny cottage is bright and light even now in the darkest days of the year.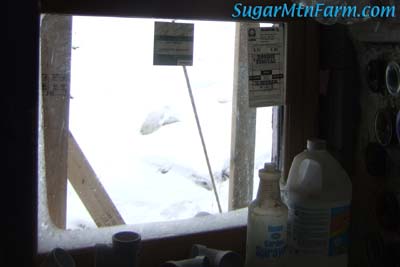 We also have a ThermaTru insulated double pane glass door. That frosts on the inner pane on cold mornings too. Interestingly, even the two low-e argon filled double pane Marvin windows we bought new, which cost as much as all 66 salvaged IBM big windows put together, get a little bit of condensation along the bottoms on cold mornings. But they do much better than the single panes of glass for sure.
Eventually, perhaps this winter, I'll add the tween films of Tedlar to the big windows to make them super insulated, for windows, a technique I developed down at the old farm house which keeps the cold out even when it gets to be -45°F. While I love looking at the frost fractals, I'll not miss the ice on the inside of windows.
Outdoors: 27°F/12°F Overcast, Spots of Sun
Farm House: 59°F/52°F
Tiny Cottage: 46°F/42°F Shower/Sump/Bottle walls parged 2nd coat, Medicine cabinet, Bedroom chimney wall parged, Attic ladder started.