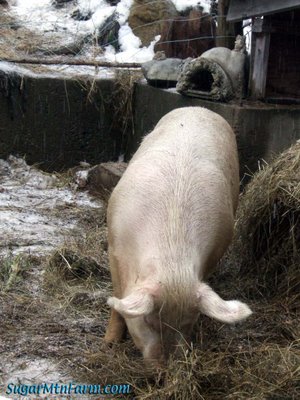 That is Flo. In that picture she's in a piggy way. That is to say she's pregnant. Flo is in fine condition having gained about seventy-five to a hundred pounds during her pregnancy – excellent for such a large lady. This gives her the energy and reserves to nurse her litter. This photo was from about two weeks ago, prior to her farrowing.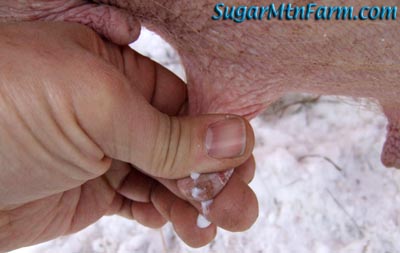 How do you know a sow is about to farrow? Unlike with human women you can ask her. In fact, go up to her and pull on her tit. If she's close to farrowing you'll get some milk, or colostrum, like I'm getting from Flo above. Of course, you had best be on a familiar basis with the lady before you try this with a 600 lb sow or she might take offense. Right before she farrows she may even start dripping spontaneously.
Another sign of impending birthing is that the sow will start doing nesting behaviors such as gathering hay and pawing up a nice comfy place to lay down off away from the rest of the herd if possible. This usually begins about 24 hours before the blessed event. Petra, the third sow in the atrium garden, is nesting now and will probably have piglets tomorrow.
[youtube=http://www.youtube.com/watch?v=xxBOTbgQ1o0]
Flo's piglets in the video above are less than 24 hours old and nursing strongly. She is in a open shed in a winter garden paddock near our kitchen door so I get to listen to her song of nursing and the choral line of piglets.
By the way, speaking of tits, Flo is one of our sows that is pushing the envelope towards sixteen. In addition to her fully functional fourteen mammary glands she has two rudimentary teats at the far back. You can see them in the above video between her hind legs. This is important because some pigs have as few as ten tits which limits their ability to produce milk and nurse a large litter. All of our sows have at least 14 – this is one of our breeding criteria. A few, like the sisters Flip, Flop and Flo plus their aunt Petra push the well endowed breast limit towards 16. Hope, age 4, thinks we should start milking the pigs instead of buying milk at the store. An interesting idea…
Outdoors: 21°F/4°F Very high winds, thunder last night, 5″ Snow
Farm House: 59°F/50°F eH2M
Tiny Cottage: 41°F/32°F eH2Mm