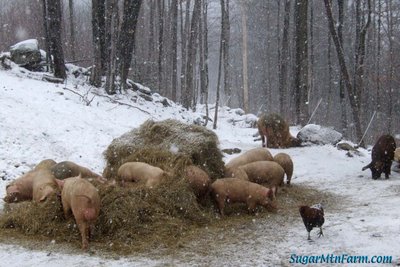 North Field Pigs and Rooster around hay bale in Snow
We delivered pigs to the butcher today and the USDA/Vermont (he's both) inspector was there. He was collecting blood samples from each pig as it went through slaughter. I was curious and asked what they test for. He explained that they test in Vermont for
Brucellosis
and
Pseudorabies
in order to maintain Vermont's status as a Brucellosis-free and Pseudorabies-free state. All pigs over 100 lbs are tested at the slaughter house. This means that our herd actually has been tested for years and is thus free of both. Good and interesting to know.
A funny note, it turns out that the inspector lives just on the other side of the ridge from us. He asked were we farmed and I said in Orange. He said, "Oh! I live in Orange too. On George Street." Turns out he's the town "Coal Agent". He said it's a funny 'job' since nobody in town seems to heat with coal but it is one of those titles and jobs, with no pay, left over from old times. He went on to explain that the idea is that if you get a load of coal and have a dispute about it then he's the one to come to for resolution. If necessary he's supposed to load the coal into a truck and take it to be weighed. Eek! We also have a fence agent, a tree agent and several other positions like that. Each year people take the positions at town meeting, or if you don't show up you may get voted in to one of them without your say so.
Ironically, I don't think he and I have ever met before although we live probably just two or three miles apart as the crow flies. It is a big town spread out over the mountains. It is funny to have met at the butcher, about an hour from our town when we are nearly neighbors. Vermont's a small place but convoluted with all the hills and mountains.
Outdoors: 31°F/21°F Partially Sunny 1″ Snow
Farm House: 62°F/54°F Pigs to market, Spot went south again
Tiny Cottage: 55°F/41°F West upper parge, sump in + 2nd sump inner wall