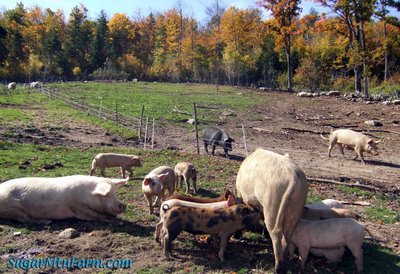 The photo above shows some of the variation in the colors of our pigs. Most of them are white to all white with perhaps a few small markings that I use to visually identify them. But a small percentage of them are spotted, tan, red, brown, yellow, black and such. They are a mix of a variety of heritage breeds. Based on the color variations and other features I believe they are primarily Yorkshire with a bit of Berkshire, Tamworth, Glouster Old Spot, Hampshire and one Large Black.
You can see Blackie in this photo coming down along the fence line. She is the odd sow out. Almost of our pigs are descended from three sister sows who of the Yorkshire white style. Blackie is the fourth source point sow and a separate line from the others. We got her a couple of years ago. I kept her simply for the interest of a different color. She's turned out to be an excellent mother.
The sow who is nursing in this picture, Mouse, is starting to look a little peaked. That is to say she's nursed down. It's time to wean her piglets who are now about five weeks old or her body will try and keep satisfying their growing demands. That's not good for her and at this point they don't really need her milk – they're quite capable of thriving on pasture, whey, cheese and fall garden excess we feed. I've been letting the piglets creep feed into the gardens now for a week or so.
Up in the distance on the left are two silly sheep. Ram 2 and Ewe 4. So why don't the sheep rate names? Our original ones came with numbers so blame it on the government. A handy scrapies goat.
Today we got the first of our winter hay. 41,880 pounds so far in 48 round bales plus 58 small square bales. When it rains it pours. I spent most of the day putting hay away. On Monday I had put out the one remaining round bale from last year – it didn't go far with so many hungry mouths. Today I distributed 5 round bales, two north, two south and one to farrowing mothers. The pigs and sheep were happy to see the new hay as pasture is getting sparse. Yesterday we had opened up another section of the north field to the second herd. The stocked grasses there are high and lush.
Outdoors: 61°F/25°F Sunny and warm
Farm House: 52°F/48°F 5 Round Bales Out, Hay delivery
Tiny Cottage: 45°F/35°F Exterior south face parge