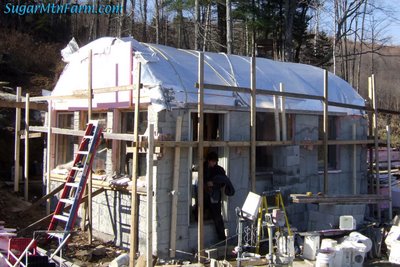 Yesterday evening we got the exterior scaffolding up around the tiny cottage. This is made of units like the one below. Last year I learned that:
Good scaffolding is worth the time it takes to build.
Vertical 2×4 scaffolding is far superior to flat planks.
I can't use rental scaffolding due to the uneven ground and frankly I don't want the time pressure of feeling like I've got to get it back to the rental place. That would create rushing which could lead to dangerous work patterns. It's far better to build our own and have it on hand to use again and again.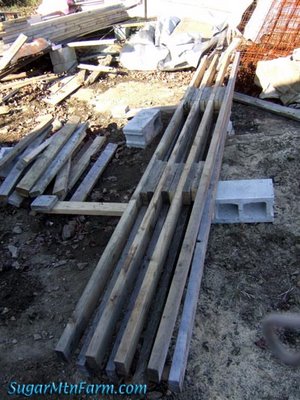 Last year I was unhappy with the flat planks – far too much flex, especially when carrying 60 lbs of concrete. So I designed joist based platforms like the one above. Using spanning tables, available in many construction books, you can quickly figure out what size boards you need for what ever length. I put together the first two and then Will whipped up the others based on that pattern. These are reusable so when we disassemble the scaffolding later this month we'll store them away for another project.
The one change I would do is make the platforms one joist wider to make walking easier. They're narrow at only 18″ in this configuration. Adding more joists is easy.
There is a railing all around, aside from openings for ladders, but it is not designed for leaning on. Rather it's to remind us not to step over the edge or backup while facing the walls.
The reason for the scaffolding is we need to do the upper exterior parging, cornice, more roof insulation and a roof membrane before the weather gets much more wintery. Those are our current highest priorities and then we'll switch modes to get some farm things ready for winter.
Outdoors: 39°F/27°F Mostly Sunny
Farm House: 51°F/48°F
Tiny Cottage: 61°F/44°F Upper front insulation 2nd layer, north face parge