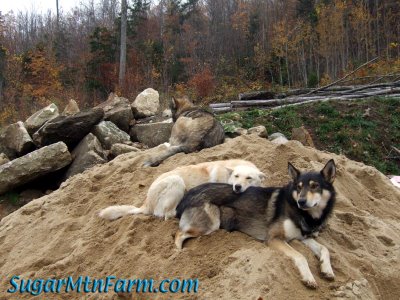 Holly and I were just talking about this topic in the afternoon. We were looking at our various dogs lazing around in the sun. They vanish into the landscape, blending in with snow, leaves and rocks. High points of the land are preferred where they can get unobstructed views of their domain.
We have high predator pressures including bears, coyotes, cougar (called catamount around here), fishercats, linx, weasels, hawks, eagles, ravens, coon, fox and more. Aside from the one run in with the cougar which got some sheep in 2005 we've not lost livestock to the locals.
I credit the dogs with this. Most of the time they don't look like they're doing much but they're on guard 24/7. They mark their territory with scent and sound, making sure local predators know to stay back. Occasionally they kill a coyote, other predators and pests. They dine on the bones of their enemies. I wouldn't want to homestead without their aid. Dogs are natural farmers.
Outdoors: 36°F/18°F Mostly Sunny
Farm House: 53°F/49°F
Tiny Cottage: 49°F/33°F Closed loft window hole, sill work, scaffold platformss finished