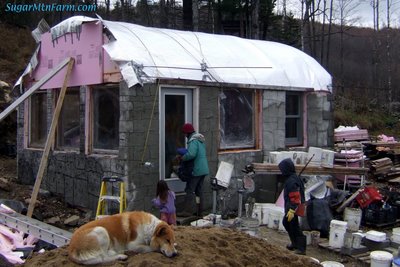 Today marks the one year mark since we poured the foundation for our tiny cottage on November 6th 2006.
Design goals:
A real living space for us as opposed to our farm house which is mostly farm related spaces but taxed as if it were all house.
Lower real estate taxes
Rugged – built to last
Ease of maintenance
Ease of cleaning
Low energy consumption
Naturally stays warm in the winter (hard)
Naturally stays cool in the summer (easy)
Well ventilated but not drafty
Windows
Natural light
A place for everything and everything in its place
Spaces for other species (plants, aquariums, paludarium…)
Designed and built by us – its fun!
Low cost construction (~$6,500 to date)
Accomplishable as a family project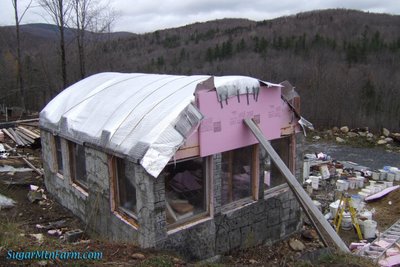 What we've accomplished in the past year:
Bedroom ceiling pour
Outer wall parge
Outer window sills (in progress)
At this point we are one week away from moving in. That's not to say we'll move in next week. Rather, if Holly, the official cold spokes-person, says the old farm house is too cold then I can have us in the cottage in about one week. There are things I would like to accomplish this fall before we move in for the winter but if time runs out then the list gets trimmed. Life is.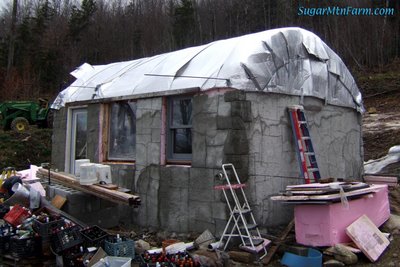 To do before moving in:
Loft Window (in progress)
More roof insulation & membrane (in progress)
Kids' Loft (in progress)
Bathroom (in progress)
Water
Temporary Kitchen
Bedroom finished
Temporary dining area
Temporary shelves
Electric beyond extension cords
Ventilation
Interior cleanup and wash down
Main Floor Window Layers 2 through 4
Cleanup exterior construction site for winter
The idea is to get out of the old, cold, drafty farm house so we don't have to heat it another winter. The cottage will have some temporary aspects for this winter but we'll be in there and enjoying the space. Then next spring, after we've done our initial spring farm projects of fencing, planting and such, we'll move back out of the tiny cottage so we can resume construction. I would rather not live and build in the same space – been there, done that, the T-shirt is old, torn and dingy. This will give us a break over the winter, time to think, to plan, to live the space. Who knows what great ideas we'll come up with from being in-situ. All plans are subject to change, of course.
What we'll do next summer on the tiny cottage:
Anything from the above list that we didn't accomplish before moving in
Barrel vault ceiling parge and plaster
Shelves in library, bedroom, kitchen
Masonry stove
Solar heater shelf in front room
Dining room with granite table
Kitchen with spring box
Parge and stucco all room final interiors
Floors
Entry
East greenhouse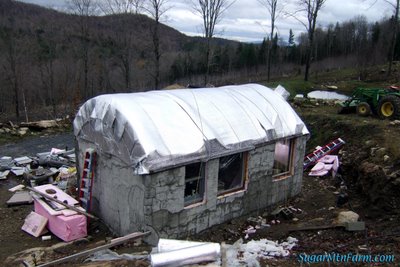 To do in another year or two:
Lightweight concrete roof pour and ECC top coat
Stone floor mosaics
Ceiling stencils
North cold storage room
Tower
Barn space for tractor, hay bale storage, work shop, etc
South greenhouse
Exterior stone finish
Cold frames around cottage base
Berm north and northwest walls from winter wind
The final heated living space will still be just the original tiny cottage but in time we'll add other spaces. Eventually I hope to sell the old farm house either as a whole to be moved to a new location for restoration or piece meal for the 200 year old timbers, beams, planks, etc. Otherwise it will become an agricultural space for storing hay, tools and other things – a shame as it is one of the oldest remaining houses and one of the original homes in the area. What happens there is a bit down the road. For now we're focused on getting in before snow sticks to the ground and makes work too difficult.
Of course, we still need to take pigs to market, deliver pork to the stores, get the farm ready for winter, daily chores, homeschool and read in the evenings… We're not bored!
Outdoors: 50°F/25°F Snow, Sun, Clouds, Snow
Farm House: 59°F/52°F Weaned more piglets
Tiny Cottage: 51°F/40°F foundation parge finished, Kitchen sill done, prep for Loft forms