See Halloween posts by my son's Will and Ben on their blogs.
Scary Barre – It Rhymes incase you're not sure of the pronunciation of the city.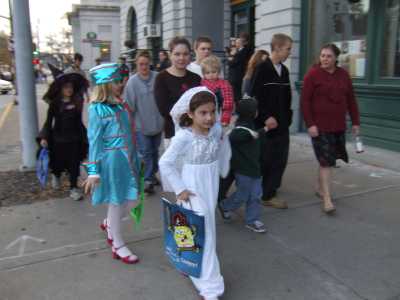 In Barre city, "Granite Capital of the World" which is suspiciously audatious claim, they have a Halloween parade. We call it a city, with almost 10,000 people. That's pretty big for these parts. Although I do realize that there are places where the blocks or even buildings have that many people. But this is Vermont and it is great fun.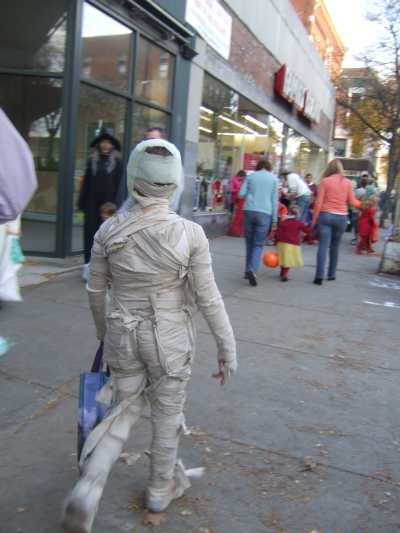 Many people make their own costumes and the local merchants close early and then pass out candy to the throngs of monsters that swarm past.

This year Will and Ben made a centaur which they sewed from fabric.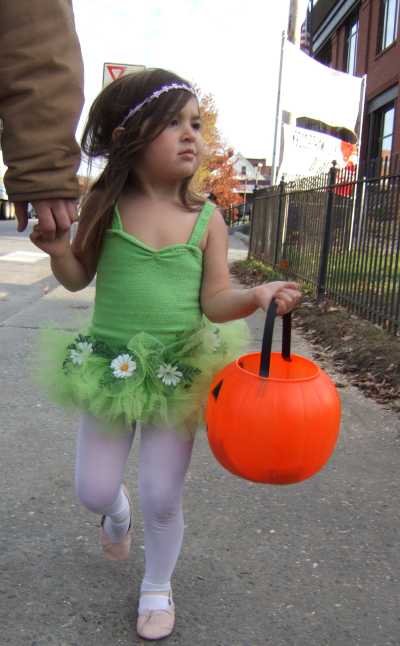 Hope was a ballerina in a costume made by my sister who sent Hope several tutu's that she had had when she was about Hope's age. Hope thought that was most special as Jennifer is Hope's favorite aunt.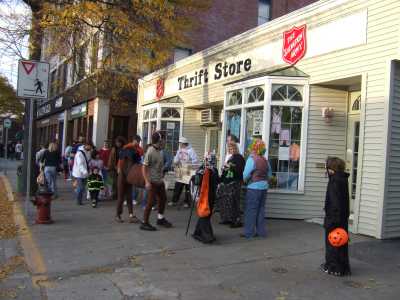 The merchants usually dress up as well which makes it that much more fun.

Dunkin Donuts gives out… donuts! I just wish they still made them fresh in the store. I used to really enjoy them.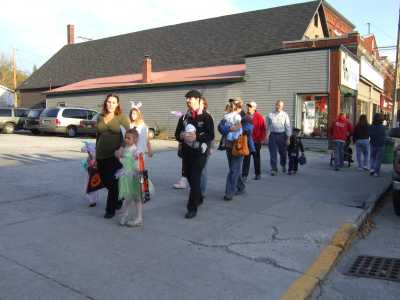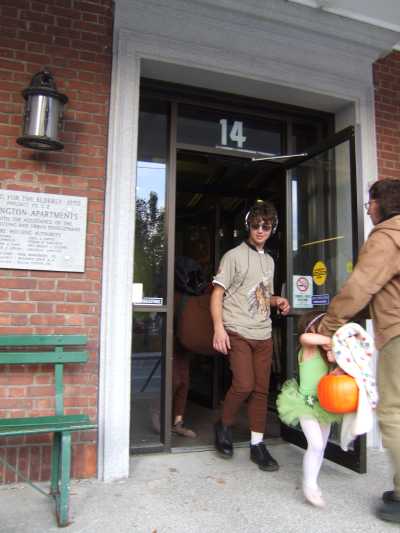 They are now letting horse people in and out of the Washington Senior Apartments…

LACE, the Local Agriculture Community Exchange, where they sell our pastured pork among many other fine local products from area farms, bakeries and such.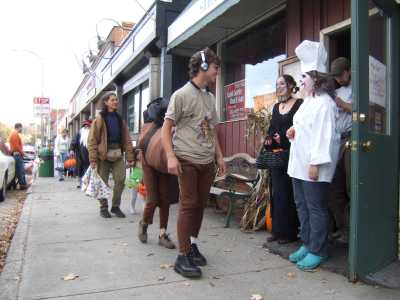 A goth (I think) and a ghoul at Del's Steak house. Will ask for seating for two. He should beware they may want him in the kitchen…

Looking across the street at store keepers tending the tides of ghosts and other creatures coming at them down the street.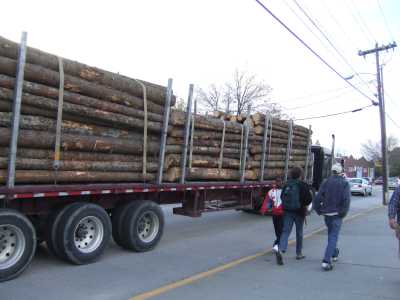 Bringing out the dead – in addition to granite, our part of Vermont has a lot of forestry which provides jobs from loggers to truckers to saw mills to cabinet makers and home builders.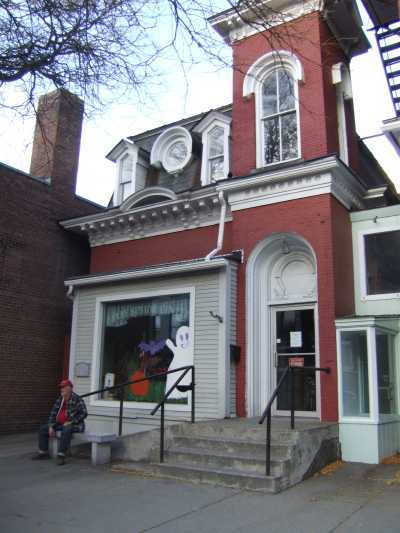 The Barre Senion Center was in a lull of the crowd when I snapped this photo. It is a very interesting little piece of architecture squeezed in between the other buildings.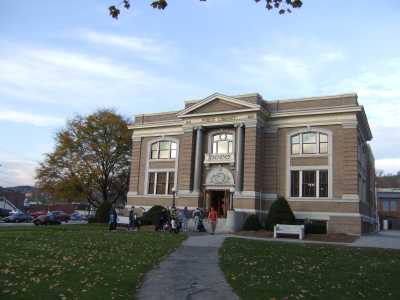 Our local library. Some years they give out kids books which is great. They hold a book sale every year around my birthday. How appropriate.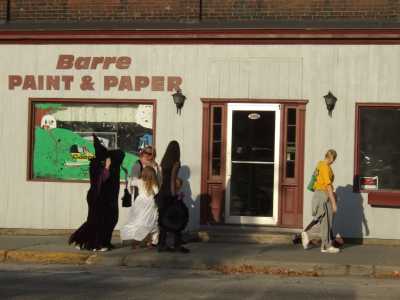 Witches everywhere!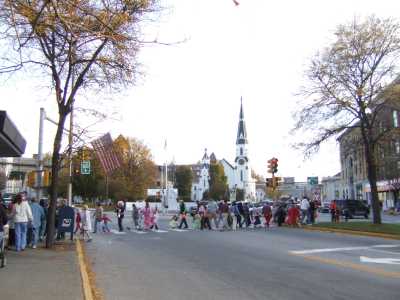 People crossing in front of the town square with one of the churches in the background. The Barre Opera is off to the right.

Police in front of the station which is next to the Barre Opera off the town square.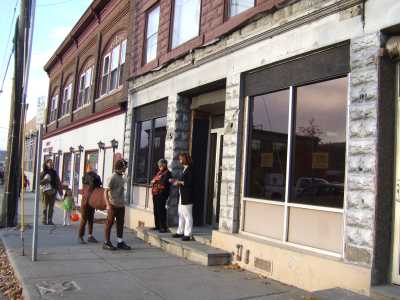 This is what happens if concrete is left exposed to the heat of the sun and the cold of the winter over the decades. What is surprising is that this building's fascade was fake stone, in a town that is filled with brick work and granite from the local mountains. The building's owner painted it silver. It is spauling and looks aweful with large chunks of concrete having fallen out.
This is caused by water freezing in the matrix, cracking the concrete and then pushing out pieces. Modern concrete has air entrainment, steel, fiber, densifiers, water proofing, capillary reduction and other techniques to reduce this. Even better is to not have the concrete exposed to the combination of sun and freezing weather. Brick does better. Granite is best of all. Why they faked stone in Barre is bizzare.
Yes, yes, I know, cost. But you can get granite for free around here. After saying all that, I'm doing it too. We are parging the pink foam on the outside of our tiny cottage to protect the foam from the sun. For fun we're drawing stones on the parge coat. In our case it is just temporary – later we'll do the final outer stone wall and then pour between the walls to make thick strong walls.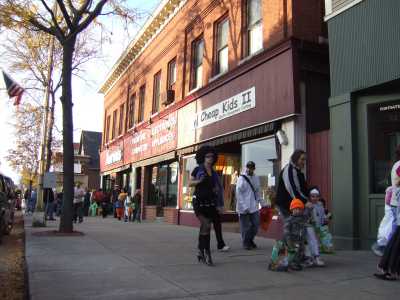 Cheap Kids is still for sale so if you would like a business in a small town contact Janice. She is not asking very much and it is a great opportunity.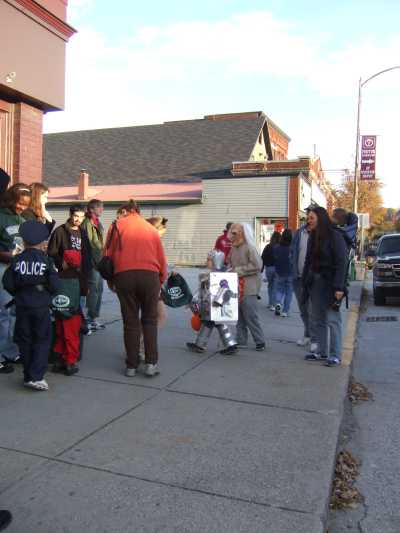 A great home made robot costume.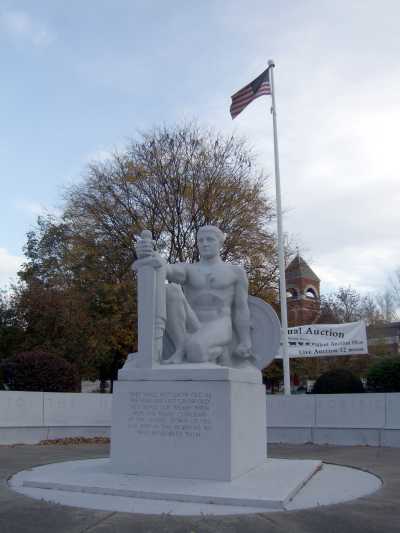 Barre's industry is granite so we have lovely tomb stones, statuary, benches and memorials.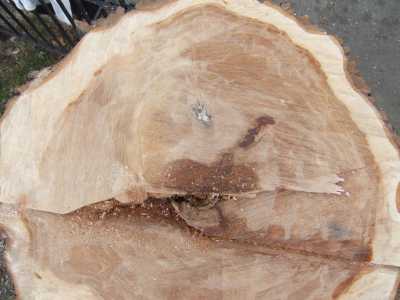 A recently dead tree. A pity.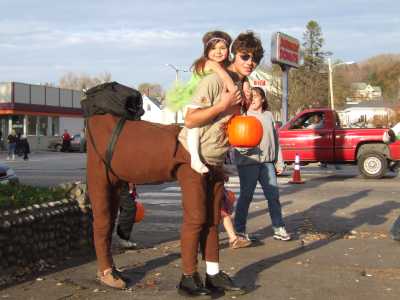 Happy Halloween from the hills of Vermont!
Outdoors: 58°F/27°F Mostly sunny
Farm House: 62°F/55°F
Tiny Cottage: 63°F/54°F outside east wall parging
Also see:
Halloween 2015
Halloween 2014
Halloween 2013
Halloween 2012
Halloween 2011
Halloween 2010
Halloween 2009
Halloween 2008
Halloween 2007
Halloween 2006
Halloween 2005