Lili guarding the sunshine.
Today is an easy dog spotting. It was warm and sunny, a perfect day to open up the loft window. This is the one window that we have not had the pleasure of checking the view through yet. It was covered with insulation last
fall
. This spring I pulled the interior insulation to
reveal
the framing of the window but the exterior insulation was still on until today.
Ben looking out his loft window
The view from the kids' loft is spectacular looking out over the
upper
pond
to the
south field
beyond. Letting the light in through the loft window brightens the whole high ceiling of the tiny cottage. Wonderful to finally see!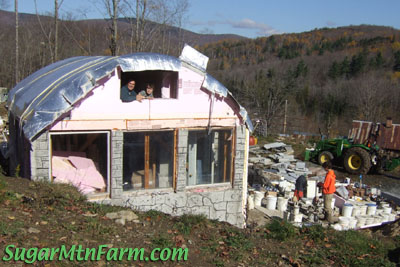 Loft window from outside
Now that I have opened the window I have to build a window to go into the opening before snow flies…
Outdoors: 54°F/33°F Overcast
Farm House: 66°F/58°F
Tiny Cottage: 64°F/55°F Loft window opening, Attic form finished, windows open