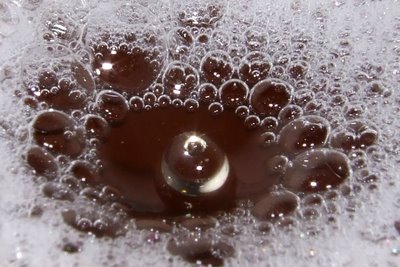 What is it?
I saw it in the morning after breakfast.
I destroyed it by accident but then recreated it.
Timing on getting the photo was quite difficult.
It is created in an instant.
It vanishes about a second later.
I took the photo on macro setting (closeup).
I had to shoot with a flash to get a fast enough shutter.
Guesses?
For the answer hold your cursor over this link without clicking. You should see a popup text explanation (standard HTML). Click through the link to a wiki discussion of some of the reason for the effect.
Outdoors: 28°F/4°F Overcast
Farm House: 52°F/46°F
Tiny Cottage: 63°F/53°F Forms work for attic floor, Windows open all night