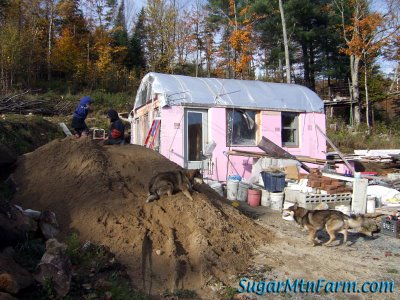 The pile above is the second big truck load of sand we've gotten for making concrete as we build our tiny cottage. That is about 14 cubic yards. Ben jokes that our house is a sand castle. The concrete, which makes up a large portion of the tiny cottage's over 100,000 lbs of mass, is made up of 3 parts sand to 1 part cement. That makes the house about 75% sand. There are also tons of granite as well as marble, brick and field stones from our land. It may be a sand castle in the sky but it's rock solid and linked to the ledge along one edge.
The final cottage will weigh in around 200,000 lbs – most of which will be inside the R-20 insulated envelope. This thermal mass gives the cottage temperature stability. The numbers I log at the bottom of each post are the air temperatures. The temperature of the tiny cottage's concrete is even more stable than the air. For example, if I leave the windows and door open the air temperature may swing quite a bit while the stone stays even. Today Holly noticed that the front wall of the dining room where I had set a temperature probe in a hole was at 65°F without the sun shining on it. The air temperature at that time was 61°F. This stability and large thermal mass will make the cottage more comfortable this winter. For a homeschool project Ben and I are going to calculate the current and estimated final weights of the house this winter. He's interesting in knowing how many tons of concrete he has mixed to make his home.
How many hot dogs hurrying up sand hill?
Saturday-Sunday Outdoors: 68°F/42°F Sunny
Farm House: 69°F/63°F
Tiny Cottage: 67°F/60°F Attic pour forms