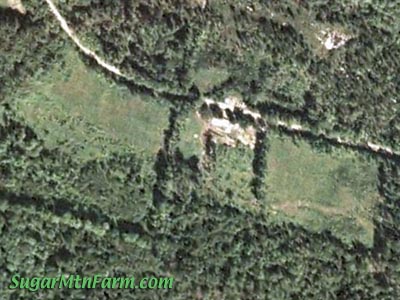 Sugar Mountain Farm from the Air in 2007
Someone sent me a link for an interesting
article
about a "
Traveling Pig Farmer
" up in western Newfoundland, Canada. (Or try
this
link.) The traveling part is that he takes a day each week to make deliveries of his meats. This is something we've been learning all about in our pig mobile.
Although there are differences I was also struck by the many similarities between what he is doing and what we're doing here at Sugar Mountain Farm. We're both raising pigs, farrow to finish and selling direct to customers and stores rather than deep into the commodity market. This bucks the trends in the 'industry' of specialization where one farm raises the sows, another the boars, another the F1 hybrid generation, another farrows sows to produce piglets, another raises them to grower size, etc. Most pig farmers now belong to the 'company' such that they do not even own the hogs they raise.
Here's a quick comparison from my notes:
| | | |
| --- | --- | --- |
| | Traveling Pig Farmer | Sugar Mountain Farm |
| Years in Pigs | 12 | 5 |
| Location | Newfoundland, Canada | Vermont, USA |
| Season | Year Round | Year Round |
| Sows | 60 | 40 |
| Boars | ? | 5 (fewer soon) |
| Weaner Sales | ~340/yr, $75 each, 15 days | 500/yr, $65-$85 each, 30 days |
| Hog Sales | 300/yr, $260 each | 150/yr, $300 each |
| Sausage | 100 lbs/wk | 50 lbs/wk |
| Deliveries | Weekly, 10 hour days | Bi-weekly, 10 hour days |
| Butchering | On-Farm | No |
| Secondary | On-Farm | No |
| People | Family – 4 | Family – 4 |
| Breed | York/Land/Tam/Hamp Mix? | York/Berk/Tam/Hamp/GOS Mix? |
| Setup | Confinement/Pens | Pastured Open Sheds MIRG |
| Farrowing | Crated | Pasture/Hay |
| Feed | Grain Based | Pasture/Dairy/Veggie/Barley/Bakery |
| Iron | Injections | Natural Soil |
| Health | Vaccination | Closed Herd/Rotational Grazing |
We're both growing and changing so there are some inconsistencies in numbers as the farms expand and take on new projects. For example at one point the article said he sells 260 pigs a year but elsewhere it said he does six to seven per week which would be up to 364 a year. Thus all numbers are approximates and some are extrapolated from things in the article.
Ross, the Traveling Pig Farmer, is a bit further along the learning curve than we are. He's got his own processing (slaughter & butchering) as well as secondary processing (sausage, curing, smoking?, etc) already going. I envy him that – we do a lot more driving because of this. Currently we use three local USDA inspected processors (slaughter & butcher), each of which is about an hour from us. We're just starting to work with two other USDA inspected processors for making hot dogs and bacon. I really like Ross's on-farm slaughter. It is better for the animal and thus better for the meat. I wish we could offer that but until we have our own USDA inspected slaughter facility on farm we can't do that – it may be a few years…
Interestingly they talked about there being a big market for pig tongue, especially pickled. That is something we've not sold at all. It accumulates and ends up going to our livestock guardian dogs right now. I guess the Canadians are a bit more adventerous in their culinary taste than our local customers. Although, I did have one person ask for it a month ago – right after I had fed the dogs. Shame on me.
One thing that did concern me from the article was Ross talked about having about 40% piglet mortalities. That is alarmingly high and something that I would want to look into. Having more survivors to finish would make a big difference on the farm.
The biggest difference between our operations is that our pigs are out on pasture and his are in confinement pens and crates. Another difference is he feeds conventional grain based feed (based on feed silos), likely a corn and soy mix. We feed primarily pasture/hay plus dairy consisting of whey from a local cheese maker, cheese trim from another, excess milk, spent barley from a near by micro-brewery, veggies from garden gleanings in the fall and the occasional expired bread from local bakeries. Because of his confinement operation Ross must give iron shots, vaccinations and probably worming shots to help improve the piglets's odds. Out on pasture there is soil to eat and they get iron from that. Knock on wood, we've never had any disease and almost no worms. This is probably due to our having a fairly isolated and an essentially closed herd using managed rotational intensive grazing (MIRG)
It's a good article so check it out if you can. It is in video format so you'll need a fast connection and RealOne player or something similar to watch it. Thanks, Bill for sending the link!
Outdoors: 63°F/57°F Overcast, 1/2″ Rain
Farm House: 66°F/63°F filed forms for hot dog label
Tiny Cottage: 64°F/59°F ah gat a cowald…