Bottle Wall with Granite Planter Base
Above the bathtub
bottle wall
will be a granite planter for humidity loving plants. The planter is set in an arch that divides the toilet stall from the bathtub, thus giving a bit more privacy in the small space while still allowing the movement of air and light.
Along the back wall is the vent pipe that will take air out of the toilet stall. The air flow design is such that stale air is exhausted from the bathroom. This draws air out of the kitchen which draws air from the rest of the house which draws fresh tempered air in via the earth air pipes. My hope is the whole system will work via the stack effect – my backup is a fan.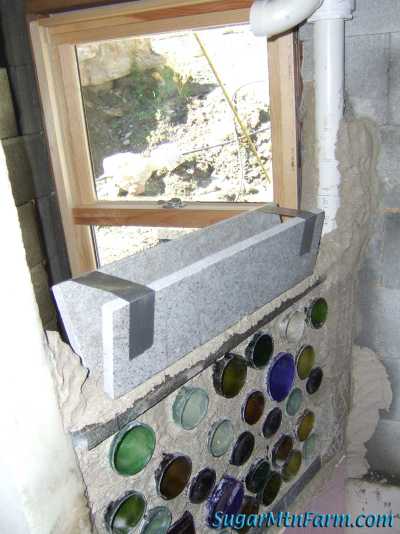 Planter Sides
The sides of the planter are two thing sheets of granite counter top we salvaged from the junk pile. We cut them both from the same large angular chunk using the table saw and a diamond saw blade. Unfortunately, with our old table saw we can't use water while cutting because of the placement of the motor. It would be rather shocking to say the least. The result is dusty work while cutting.
To set the planter sides I laid a bed of mortar on the base stone, set the sides in position and then my beautiful assistant taped them with duct tape in tension. That held the stones while I placed the rest of the white cement around them.
On the pipe side of the planter I drilled a pair of holes which will allow drainage for the plants. The vent pipe goes all the way down to the floor drain so this lets it do double duty as both air venting upward and water draining downward. The utility room above where the hot water heater is going will use the same system for its floor drain.
Bathroom Planter and Bottle Wall
The three bricks on either side that form the base of the arch sit on the ends of the planter. That will be my first real brick arch in the house and my second brick arch including the
dog house
test arch.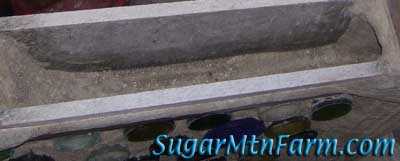 Planter View from the Top
I'm thinking that we'll put moisture loving plants in this planter. Probably those that do well with dimmer light. The bathroom window is small, just a standard opening double hung
window
facing south west. Perhaps ferns and a bed of moss. My son Will and I built a
paludarium
(earth, water & air) 50 gallon tank which he has been tending for years. The mosses, lichens and other things in there have expanded greatly to cover much of the rock. Doing something similar in the bathroom would be very elegant.
Mix Master Ben Making Mortar
Outdoors: 68°F/27°F Partially Sunny
Farm House: 64°F/55°F
Tiny Cottage: 60°F/50°F Windows open