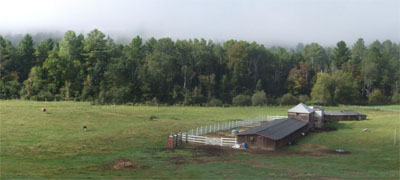 Pastoral Morning in Groton, VT
Just downhill from the cemetary in Groton, Vermont is a farm with a unique long barn. It's a collection of sheds that appear to have grown over the years. Out in the field are cattle. Possibly there are sheep in the corral area although I could not quite tell. I caught this photo as the morning mists rose. Click on the image if you dare – it's a 700KB panorama – count the cows and possible sheep.
The foliage is definitely turning up on the hills. Frost has been predicted but so far we have escaped. The days and nights ahead look warm according to the weather forecast. I would love a long warm fall. Perhaps snow starting December 15th… after we've moved into the tiny cottage.
On Tuesday we picked up a ton, literally, of white cement and another ton of bricks. The bricks are from Vermont Brick in Highgate, Vermont. The bricks are actually pavers which are extra strong. I chose them because I liked their rough texture and color. It was nice that they were local rather than having to be shipped from some far off place but honestly, that was chance.
We've finished the bottle wall in the bathroom – it looks incredibly beautiful. I'm glad I couldn't afford glass blocks because I ended up doing something better. Serendipity often works that way.
We also completed the planter on top of the wall. The planter has a granite base and sides sitting up above the bottle wall. It is quite solid. I slipped and fell, testing the edge of the granite planter sides with my face. No teeth were broken although I was not sure at first. Lots of blood – I did get a split lip. It will heal. I'm glad the granite of the planter didn't break. That would have been harder to fix.
Now that I have the brick and more white cement for mortar I'll start the arch above the planter, perhaps tomorrow.
Monday-Wednesday Outdoors: 70°F/34°F Mostly Sunny
Farm House: 70°F/59°F
Tiny Cottage: 72°F/65°F Got white cement and brick