Wellspring Farm CSA – click image for panorama
Yesterday we got rain, which was much appreciated although it did rather get in the way of working on projects. Memo to Mother Nature:
rains between 1 am and 4 am are preferred.
We do need the rain so I won't gripe. Today was bright and sunny, befitting a Harvest Day Festival…
Hay Ride – All Hang On!
There is a farm nestled down in the flat bottom of the river land along the Winooski River in Marshfield, Vermont. Months ago I photographed the farm from up on the heights. It is a delicious visual – a collection of three homes, barns and outbuildings set among fields with the mountain behind. At the time I didn't know what I was recording, who's life it was down there, just that it was most picturesque. Collecting such images is something I enjoy doing as Holly and I drive about Vermont and fortunately she is patient, putting up with my requests to stop and waiting while I walk back to get the right shot.
Helping Hands
Today we visited
Wellspring Farm CSA
– that is the farm I had photographed. I have seen the sign many times along Rt-2 while driving back and forth to Cabot to pickup cheese and such although I had not connected it in my mind with the farm nestled down there. Back in the end of August when Chef Bivens had us to
dinner
at the Chef's Table we also met Lu who is a member worker at Wellspring Farm. This led me to contact Mimi, the farmer, and see if she would be interested in doing something together with our pork and her CSA. So today we went to visit, meet, greet and attend the Harvest Festival at her farm. It was great fun, music, games, hay rides and food.
Chef Mark of NECI
We donated pastured pork country style ribs. Chef Mark of the New England Culinary Institute's (
NECI
) students worked their magic cooking up into the most delectable, delicious, scrumptious, mouth watering smoked pork I have ever tasted. I had seconds – and it's not like I don't get pork at home! Mimi has asked Chef Mark for the recipe so I'm looking forward to seeing it in her newsletter soon.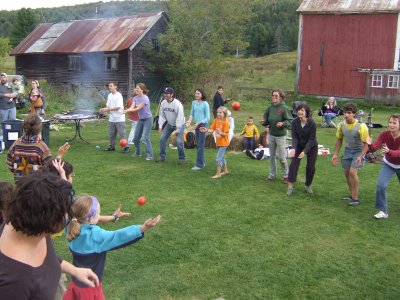 Tomato Toss
There were organized games as well as the general socializing, eating and fun. Above is the tomato toss. Careful!!!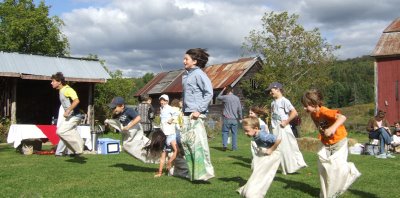 Sack Race
The kids were much better at their sack race than the adults who jumped the gun and finished before Mimi even said go!
Face Painting
Virtually everyone seemed to be decorated with face and hand paintings.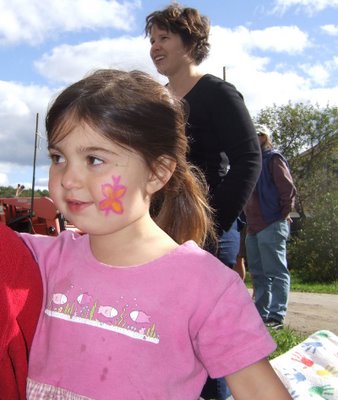 Hope's Butterfly
Our daughter Hope took to the face painting quite naturally – she's often covered in her own artwork so letting someone else draw on her cheek was not much of a stretch.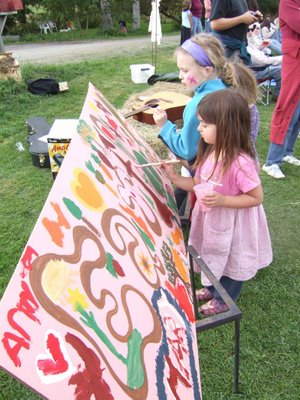 Banner Painting
Mimi called for a tug-of-war: Carnivores vs Vegetarians. The pack of carnivores lined up on one side and a sole vegetarian was standing on the other side. This was not a pretty sight. Surely there must be another vegetarian in the crowd!?! But no, there were none. At least none with the courage to step forward.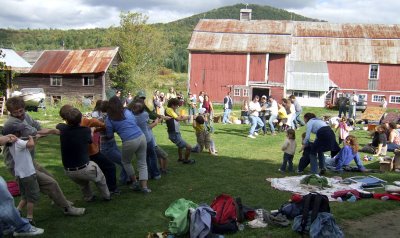 Carnivore vs 1 Vegetarian & Helpers
I and some other economic omnivores took pity on the lone but courageous vegetarian facing the pack of hungry, but fortunately fed, carnivores. We went to her aid. Still the carnivores won! Lesson children: Eat your meat! :)
Music by The Calamity Janes
It is fascinating how things come around, the degrees of separation and connectivity. A portrait of the Vermont hills, an invitation to dinner, new friends.
Update: My son Ben has made a post on his blog about the harvest festival.
Update Again: My son Will has made a post on his blog about the harvest festival.
Saturday Outdoors: 62°F/42°F 3″ Rain, Mostly Overcast
Farm House: 67°F/56°F
Tiny Cottage: 70°F/65°F Bottle wall planter base mortared
Sunday Outdoors: 64°F/36°F Mostly Sunny
Farm House: 68°F/59°F Wellspring Farm CSA Harvest Festival
Tiny Cottage: 71°F/63°F Bathroom planter sides cut