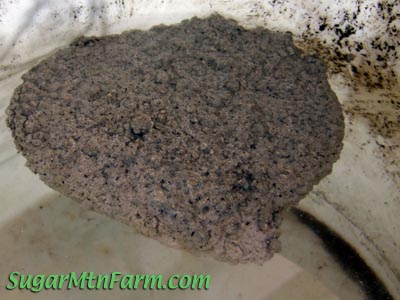 That is floating concrete. It is amazingly light. While making the roof of the dog house, details to come, I saved a blob of the light weight concrete and let it harden so I would have a sample for density tests. In that photo above it is floating in a bucket of water. If you press it to the bottom and release it the concrete blob jumps back to the surface. It doesn't just barely float, it is up above the surface – as can be seen in the photo 90% of the blob is above the water. No iceberg is it.
So what is the use of floating concrete? Well, I suppose you could make a dock out of it for the lake. I'm not sure if over time it would soak up water and sink. My purpose was to create roof insulation for the test roof we put onto the dog house. Below that layer is the hard structural shell of the barrel vault. Above the light weight concrete is another hard layer. This produces an insulated roof with greater structural strength than had it been just the two layers or a single thick layer of hard concrete. It's a laminated beam effect.
The formula we worked out in parts by volume is: 1.5 water with dish soap for a surfactant a.k.a. water reducer, 2 portland cement, 7 vermiculite (popped rock), 1 small handful PVA fibers.
Outdoors: 74°F/43°F Sunny
Farm House: 69°F/60°F
Tiny Cottage: 71°F/63°F Bathroom vent work & cleanup, Sump forming