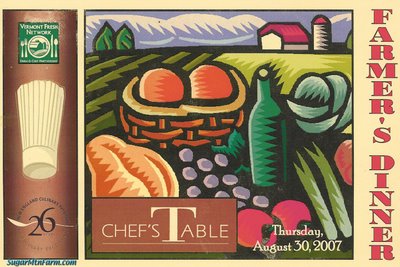 A couple of nights ago I came in from working outside and checked phone messages to discovered that Holly and I had been invited to dine at the chef's table at the Chef's Table for a wine tasting dinner. Gulp! Do I even have clothes?!?
Now that might seem like a bit of odd grammar, perhaps even a little repetitive the way I wrote it with the capitalization. I didn't realize the significance at the time of the phone message. You see the Chef's Table is a very classy restaurant, above our normal fare. It is run by the New England Culinary Institute (NECI) in Montpelier, Vermont. We love the NECI food but normally we eat downstairs at the Main Street Bar & Grill when we go every few months for their Sunday brunch – a special treat.
As we discovered when we arrived and met the Maitre'D Matthew we really were dining at the head chef's table. Chef Tom and Chef Brian wanted to discuss our pastured pork for NECI, their restaurants and Inn.
Towards the end of the presentation by the wine expert of the various wines that were accompanying the courses I all of a sudden realized that our farm and pastured pork was featured on the menu in both the appetizer and 4th Course. Until that moment I had no idea we were not just guests of the chef but also featured on the menu. The Pork Loin Confit Pork Belly Roulade with Roasted Crab Apples, Butternut Squash Fondue and Bourbon Bordelaise was delicious. I have to admit that I never would have recognized the pig dressed up so well by the graduating student cooks for their final project – the Farmer's Dinner. It is amazing what master cooks can do with the same humble ingredients. At home we cook pork all the time, but what they do at the Chef's Table and NECI is art.
Sugar Mountain Farm on the Menu!
It was a wonderful evening and the food was fabulous with many courses. Chef Tom and Chef Brian were charming. The other three people at our table were fascinating to meet. I learned a tremendous amount about food from the chefs' and store buyer's point of view as well as getting to talk with a stone carver and another farmer about her
CSA
experiences at
Wellspring
in Marshfield, Vermont. I even managed to speak without stuttering or melting when asked to give a little introduction to the entire restaurant about our farm. As we left the rain had cleared and the air was fresh. All in all a wonderful evening.
To top it all off Holly said I even used the right fork. Turns out she can dress me up and take me out.
Thursday, Friday Outdoors: 84°F/53°F Partly Sunny
Farm House: 76°F/54°F
Tiny Cottage: 75°F/68°F