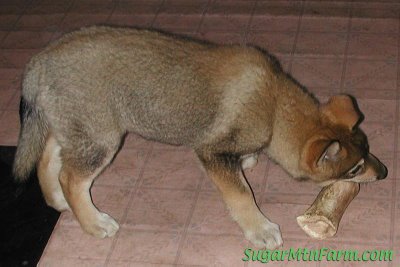 I've often been asked if pigs can eat meat. The question comes both from, will they naturally pursue chickens and can one feed them the slaughter remains of chickens – something many people have after putting the poultry in the freezer.
The simple answer is 'yes' but I don't feed chicken to our pigs but it is because I do feed them to the dogs. The pigs would probably like the bones – In the wild they would eat mice, birds, etc – but the dogs rank and get first pick. There is never any left over for the pigs to have.
The bones, raw or cooked, have never hurt our dogs. The thing about dogs and bones is a myth, at least for ours. Perhaps there are some delicate toy dogs that have been bred to the point they can no longer handle a bone diet but ours crack through big and little bones from all species. I was told this myth as a child, that chicken bones would kill a dog. Later someone said it to me about pork bones. I observed the reality that the dogs eat bones when ever they can – raw, boiled, baked, fried, canned, etc. What goes in the front end as sharp crunchy bones comes out the back end as paste (doggie doo-doo). They have very powerful jaws and stomach acids.
A veterinarian I asked about this said that he has seen one case in his long career where a dog had a problem with a bone. It was a beagle and yes, a pork chop bone. The first problem he said was the dog didn't chew. Normally that would be okay because of the dog's strong digestive juices. His guess was simple chance combined with inbreeding may have created that situation. So it can happen – it's just unlikely. I don't worry about it with our dogs. Of course, your dog may be different so you'll have to make your own choices.
At our place the dogs get first dibs on animal protein like meat and bones, etc – after us. Then chickens get it next (slaughter offal) from when I do a pig. Thus there is never any for the pigs even if I did want to feed them bones or the like.
Additionally I prefer raising vegetarian pigs. These are big animals. I would rather they didn't get into the habit of eating meat although they probably snack on the occasional mouse or snake out in the field. Since we do pasture the pigs, sheep and poultry together it seems best to not have them be thinking of chickens as dinner.
Of course, a most of the best bones make a side trip to the soup pot before getting to the dogs. We people types in the household get first dibs and we like bone broth which makes a fine soup stock.
Wednesday – Friday Outdoors: 77°F/47°F Mostly Sunny, Light rain
Farm House: 74°F/60°F Econoline body work
Tiny Cottage: 71°F/67°F