For an update on this topic see the article Have Your Pig and Eat It Too.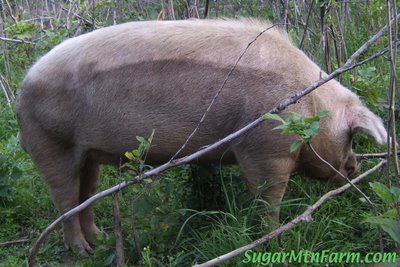 Big'Un has 'em.
That is Big'Un, one of our breeding boars. This photo gives no perspective as there is nothing to compare him with but take my word for it, he's big. He is a fast grower, long, friendly and throws great piglets. He is primarily Yorkshire with a pinch of some other breeds. He is not castrated – and that is not just because he's a breeding boar. So far I have not tasted him so I don't know if boar taint is an issue with him. None of his brothers or sons had boar taint so I suspect it is a non-issue with him as well.
I don't like doing castration. It isn't a fun process for me or the pigs. The question was, "Is castration necessary?" After much literature research on the topic as well as eating progressively older and older boars I've come to the conclusion that routine castration is not necessary at least for our pigs and possibly not for most pigs. Recently there was an article in the Wall Street Journal about castration of pigs. Unfortunately it read like an advertisement for high tech sex selection and a new vaccine for immuno-castration – an injection that would be required for every single male pig for all of eternity if you follow their logic. I for one don't want to be dependent on some big corporation for my breeding herd.
There is a myth that boars will taste bad and the word for the taste is boar taint. There is a scientific basis for this in some pigs. In fact, it can even show up in female pigs (gilts & sows). Boar taint, when present, is caused by two chemicals, skatole and androstenone. Skatole is formed in the intestines and androstenone is formed in the gonads and the adrenal glands. Research shows that the vast majority of market age pigs, about six months, don't have boar taint because they are too young in addition to possibly not being high taint even at older ages (pers. obs.). Perhaps there are some breeds of pigs that do develop boar taint early enough to be an issue but thankfully ours don't.
There is a simple test for taint – fry up a piece of meat and smell it. Most people, especially women, can smell it. For the more analytically inclined there are complete laboratory analysis's that will tell you how much of the taint chemicals are in a line of pigs. I'll admit that when we began this research I had trepidation, I had been warned that boars tasted and smelled so bad it would make the house uninhabitable if I cooked any boar meat. Fortunately that wasn't the case. I do admit to timidly frying up a tiny piece of fat and meat the first time. I started with a young boar – but there was no taint. Would there be in an older boar? No, again and again as we taste tested progressively older boars. The oldest to date has been well over a year and was kept with breeding females, sows, for the ultimate test. At this point a very large sampling of people have eaten meat from our intact pigs and declared it delicious so I'm very confident of the taste.
Since I don't like castrating and I haven't found boar taint in our pigs I've been working to educate people who buy piglets and meat from us that castration is not routinely necessary. Most people are open minded about it. After tasting the meat from our pigs or reading the articles I've written about our experiences ("To Cut or Not" and "Boar Meat") they realize they can't tell the difference between boars (non-castrated males), barrows (castrated males) and gilts (females). Of course, if you had a line of pigs that was full of boar taint then your results would be different. Personally I would change breeds or actively work at breeding away from the taint. As much as I dislike the idea of government attempts to micromanage our lives I can see a time down the road where routine castration is likely to be banned. It is already happening in Norway.
Castration can also cause needless deaths. If a piglet has a hidden hernia then when it is castrated the piglet's intestines may shoot out of the cut in the scrotum resulting in extreme pain and death, especially if the intestines are cut during the castration. Even with the best of techniques this is not possible to avoid 100%. There is also the chance of infection – pigs are not good about keeping bandages on or keeping their cuts clean – the first thing they want to do after being castrated is rub the wound on the ground which could lead to infection requiring antibiotics for treatment – something one tries to avoid in the meat.
There are very significant advantages to not castrating, besides the avoidance of the unpleasantness, infection and death. Boar pigs, on average, grow faster and leaner than barrows or gilts. Boars put on more muscle and are more efficient and economical to raise. Castrating them sets them back several days as they recover from the castration and loses these advantages.
Another rationalization given for castration is temperament – people claim that boars are inherently dangerous. This has not been our experience. We see about the same aggression in all three groups, boars, barrows and gilts. Most importantly, breeders need to select for temperament. I won't keep an aggressive animal – they go to the butcher, not the breeding herd. It is just too dangerous to breed ill tempered 200 to 800 lb animals. The result is that with a little section you can have well mannered livestock which means less danger for you.
I do have to question the logic of maintaining a breed that requires routine mutilation when there is a better way. Some suggest that the 'need' is more myth than fact and better management practices eliminate the boar taint. If one had pigs that were high in boar taint then a good solution would be to either change breeds or simply select toward pigs that don't have the taint while retaining the rest of the characteristics you want to keep. Selective breeding over a few generation should help greatly. But there are plenty of breeds of pigs that don't have the 'boar taint' so one can start ahead of the game with one of them. Our pigs are primarily the large white Yorkshire but they have a bit of the Hampshire, Berkshire, Tamworth and probably some other breeds mixed in – genuine all American pigs.
Contrary to what the Wall Street Journal article suggests we don't need is a new vaccine against boar taint. That's just a money making program for pharmaceutical giant Pfizer that doesn't really solve the problem. I don't like the idea of injecting one more chemical into our food supply. We don't use antibiotic feeds or hormones in the meat we raise – immuno-castration from Pfizer would sort of defeat our Naturally Grown certification.
Another high tech non-solution that I've heard proposed is using Artificial Insemination coupled with sex selection of the offspring to simply not have boars. I'm not incline to do this either for the simple reasons that 1) it makes the whole process more complicated and expensive; 2) most sex selection methods are only partially effective but most of all 3) even if it did work inexpensively it would turn over genetic control to some third party rather than our having control over our own breeding boars and replacement stock. That last thing in the world I want is more control of my life by corporations – they have one goal, suck the money out of my pockets at minimal expense to themselves.
We also don't need genetic engineering, or patenting of taintless pigs as Monstersanto would be likely to do. Turning over control of our food supply to the likes of them through patents on life is one of the black marks on our current times. These high-tech 'non-solutions' are unsustainable and expensive approaches to a non-problem. Beware the marketer who sells you a solution for a problem you don't have.
Castration is a questionable practice for most pigs, and perhaps other animals as well. Just because you're going to eat someone doesn't mean you need to make them miserable. In fact, they'll taste better if they're not stressed. It's a wholesome, all natural fact – happy meals taste better.
For an update on this topic see the article Have Your Pig and Eat It Too.
Sunday-Monday Outdoors: 80°F/56°F Mostly Sunny, 1″ Rain
Farm House: 76°F/59°F Econoline body work
Tiny Cottage: 70°F/68°F Dog house ceiling tests, sink tests
Update: The problem of accidental injection for men is quite serious and should not be dismissed so lightly. Two injections are not required to have a problem.
Sterility can occur from the first injection – permanent or temporary. Subsequent injections make it worse such that they recommend if you get injected once that you have nothing to do with the vaccine in the future. This is not a case of it taking two injections to make you sterile. One injection can do that. With each injection the effects get worse, higher risk.
Note that this effects both men and women. It does not just produce sterility but may affect secondary sexual characteristics. e.g., you could lose muscle mass (get weaker) and lose other male characteristics. Why risk it?
"People who get injected with the vaccine can become sterilised according to an EU report:"Accidental self- injection may produce similar effects in people to those seen in pigs. The risk of these effects is greater after a second or subsequent accidental injection than after a first injection."[7] The manufacturer's web site further expands on this: "accidental self-injection may produce similar effects in people to those seen in pigs. These may include a temporary reduction in sexual hormones and reproductive functions in both men and women and an adverse effect on pregnancy. The risk of these effects will be greater after a second or subsequent accidental injection than after a first injection. The product label advises anyone who has received an accidental self-injection to seek medical attention immediately and not to use the product in the future."[8]
http://en.wikipedia.org/wiki/Boar_taint