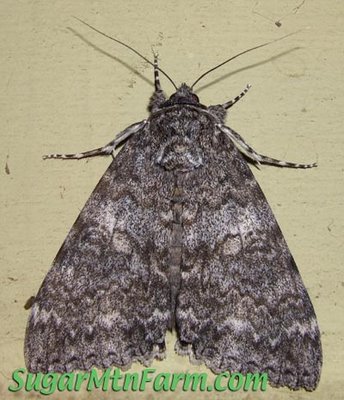 Tonight this moth flew into our lives. My son Will spotted it in the kitchen but it didn't look like the above picture. I took a photo, the one above, and then it flew down and landed on my chest, spread its wings and displayed its colors showing red and black bands on the rear wings. Will used Wikipedia and quickly found it. See his blog for the other, prettier view and more details about this moth.
In local news there was an interesting article in our local newspaper, The Valley News, about service employees (waiters & waitresses, etc) of Dartmouth Collage's Hanover inn wanting to get their full compensation including tips when they were on disability, etc. Apparently it is hard to live on $3.60/hr disability. It got me to thinking. I've always found this system of mandatory tipping to be rather odd. So I wrote:
Dear Editor,
I was amused to read that Service Employees International Union workers at Dartmouth think they are owed tips by their employer when they were not working. Looking 'tip' up in the dictionary I find:
Tip -noun
1. a small present of money given directly to someone for performing a service or menial task; gratuity: He gave the waiter a dollar as a tip.
–Valley News 20070728
It is also interesting to note from the etymology that that the word originated with thieves as in "'give a small present of money to,' 1610, 'to give, hand, pass,' originally thieves' cant"
Is it time that perhaps we should eliminate tipping? It is a rather odd situation that some people are paid low wages by their employers and the customer is expected to pony up extra money to make sure the wait staff have enough to live on. Ceasing the practice of tipping would also solve this whole issue of are tips owed by the employer during vacation, leave, disability and unemployment time thus killing two birds with one stone.
Alternatively the tipping system could be expanded! Since the restaurants, and fine institutions like Dartmouth College, like paying employees on a "base plus tip wage" scale maybe we could also do the menu prices that way. If I really like the food I'll 'tip' the restaurant to let them know. If not I'll perhaps just tip the waitress for her superior service. Or not. I suspect that if employers were forced to operate on the same basis they are forcing on their employees they would quickly abandon the tip system and go with a simple wage.
Of course, if we eliminated tipping there would then be no recourse for the customer when poor service, or food, is rendered. That sword has two cutting edges.
WalterJ
in Vermont
Outdoors: 81°F/54°F Sunny
Farm House: 77°F/66°F
Tiny Cottage: 72°F/69°F Tank Wall top beam poured 3 buckets