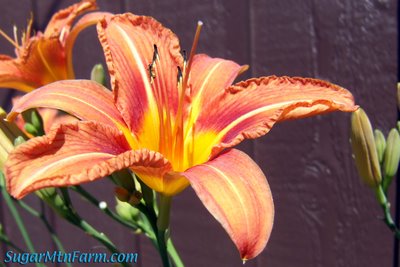 West Topsham Post Office Day Lily
It has been quite a week. June was very dry and the first half of July more than made up for it. We got so much rain that our road got washed out to a large degree twice – thank you to Johnny & Wally on the town crew for fixing it back up! Far worse was in Barre, Vermont where they had major road wash outs and much of the town was flooded. We didn't see it in person, having avoided going in town during that time, but the photos looked quite bad. Apparently someone's home got lifted away and 1,600 feet of road and town sewer lines got washed out. Yuck!
The blessing of the rain is that the gardens and fields needed it – they're lush green now and the ponds are full again.
Past week: Outdoors: 85°F/59°F 9″+3″+6″+1″ Rain over the week mixed with sun
Farm House: 77°F/61°F
Tiny Cottage: 72/68°F Tank wall granite all placed, doorway arch forming