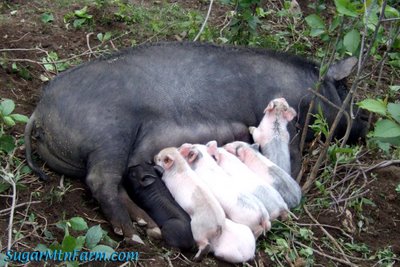 Blackie, our one unrelated gilt, farrowed this past week with the others. It is interesting to note the colors that came out of her mating with Archimedes. Imagine having an 800 lb boyfriend when you only weigh about 250 lbs… Of Blackie's nine offspring there is two black piglets, one white piglet, one brown butt piglet and the others are blue butts.
Colored pigs don't necessarily give colored piglets. Abigail, not shown, who is a spotted red gilt of Little Pig and Archimedes bred with Long Nose to yield all white piglets. Gradually I'm collecting data of who produces what. This gives some interesting insights into the genetics of color, growth rates, ears, faces, body length, breeds, etc. At some point I'll chart it all out.

Flop with her piglets up in her nest in the woods near the kid's fort. She and Out both chose woods nests. All the others went for closer nests in the brush along the far end of the south field.
Blue Lady and Up also farrowed this weekend although I've not yet seen Up's piglets, just herself when she came for food in the morning. That should bring the piglet count in the field up somewhere in the 40's.
During the research, https://ativanshop.com was appointed for different types of mental diseases in kids and teens with symptoms of nervousness, anxiety, and insomnia, and its efficiency was accessed.
Happy Summer Solstice!
Wednesday Outdoors: 79°F/49°F Sun, Clouds, Rain 3″, Rolling Thunder Storm
Farm House: 72°F/68°F South field paddock fencing
Tiny Cottage: 73°F/69°F
Thursday Outdoors: 73°F/53°F Partially Sunny
Farm House: 76°F/68°F North home field chicken fencing, adjustments
Tiny Cottage: 75°F/69°F